Contact:
Maggie Burnette Stogner
Executive Director
Center for Environmental Filmmaking
4400 Massachusetts Avenue NW
Washington
,
DC
20016
United States
Challenge Prize Winners 2017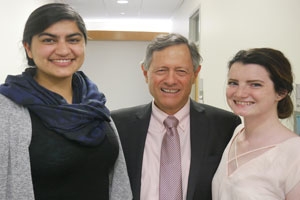 Congratulations to School of Communication graduate students Sirjaut Kaur Dhariwal and Crystal Solberg, for each winning a Challenge Prize from the Center for Environmental Filmmaking for combating adversity.
Sirjaut and Crystal will receive $3,000 each.
Sirjaut Kaur Dhariwal is a second-year MFA candidate pursuing a degree in Film and Electronic Media, with a concentration in Environmental and Wildlife Filmmaking. Her goal is to change the face of the natural history and wildlife film industry by bringing more voices to the forefront of storytelling. This is an industry that celebrates different voices, human and animal, but there is a lack of diverse filmmakers. In a Caucasian male dominated world, Sirjaut hopes to break the norm and show young girls with all different backgrounds that their stories about their environments are worthy of being told, and worthy of being told by themselves.
Crystal Solberg is a second-year MFA candidate pursuing an MFA in Film and Electronic Media with an emphasis on environmental and wildlife filmmaking. In the past, she has had the pleasure of producing work for the Humane Society of the United States, and is currently an associate producer for National Geographic. Growing up in Minnesota with her six siblings, Crystal developed a love for dense forests, lakes, and the wildlife that share these spaces. Her free time is spent exploring and attempting to capture the beauty of the wild world through stills and moving images.
Their selection is a testament to their hard work, tenacity, and perseverance, as well as to their determination to make creative films on conservation that matter, that make a difference, and that make the world a better place.
2016 Recipients

Doaa Nour, Elizabeth Herzfeldt-Kamprath, and Kent Wagner

2015 Recipients

Shannon Lawrence, Will Reid, and Sam Sheline