Contact:
Maggie Burnette Stogner
Executive Director
Center for Environmental Filmmaking
4400 Massachusetts Avenue NW
Washington
,
DC
20016
United States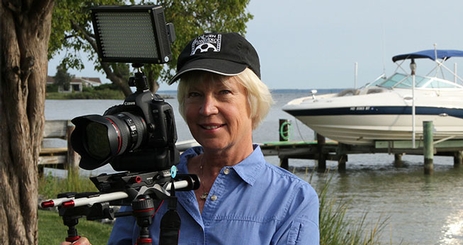 Sandy Cannon-Brown has helped fulfill the Center's mission by serving as a role model for emerging environmental filmmakers, mentoring countless students and young professionals, building Center partnerships with media and non-profit organizations, and working with students on films for the Center and its partners. She is the president of Video Takes Inc. and is an associate director of the Center.
Cannon-Brown taught Environmental and Wildlife Production at American University for six years. Her students won many awards for the work produced under her tutelage, including five student Regional Emmys. In 2011, Cannon-Brown received a University Faculty Award for Outstanding Teaching in an Adjunct Appointment. She currently is assisting former SOC Dean Larry Kirkman on an interdisciplinary initiative that focuses on water issues.
Through her company, VideoTakes, which she founded in 1985, Cannon-Brown has accumulated dozens of top awards in prestigious festivals, including six CINE Golden Eagles. Her personal honors include a Woman of Vision award from Women in Film & Video and individual recognition for scriptwriting and directing from ITVA/TIVA. She currently is working on a film about oysters in the Chesapeake Bay. She'll show a sneak preview of the film on November 19 in the Wechsler Theater as part of Center's 9th Annual Fall Film Series.