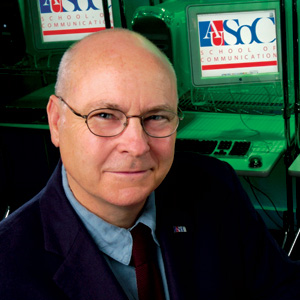 Larry Kirkman

Professor School of Communication
Degrees

MAT, Harvard Graduate School of Education, Harvard University; BA, Columbia College, Columbia University in the City of New York

Bio

I'm Professor of Film and Media Arts and Dean Emeritus in the School of Communication at American University. On sabbatical in 2018, I retire in 2019 after 18 years. I was dean of the school from 2001 to 2012 and since then I've taught courses on social documentary and film history for MA/MFA filmmakers. As dean, I created a shared vision, program and plans for the renovation of the McKinley Building as SOC's new home. I involved alumni in the substantive life of the school, built partnerships with major media organizations, such as The Washington Post, NBC, USA Today, Sony, American Film Institute, Smithsonian and New America Media, and established centers for innovation in public service media, including the Investigative Reporting Workshop, Center for Media and Social Impact and Center for Environmental Filmmaking. My work in media for public knowledge and action includes public television documentaries, some with funding from PBS, CPB and NEA, social advertising campaigns and online journalism projects produced as executive director of the Benton Foundation and the Labor Institute of Public Affairs. I produced the American Film Institute's National Video Festival in 1981 and 1982, sponsored by Sony, and Benton Foundation's international Advocacy Video Conference in 1993. I'm working on a documentary on science and public policy, Preponderance of Evidence, to tell the stories of scientists on the front lines of public debate. As a filmmaker-in-residence in the Investigative Reporting Workshop (IRW), I recently produced Nightmare Bacteria: Life Without Antibiotics, an interactive documentary on the antibiotic crisis. Learn more about my career, productions and publications at larrykirkman.com.
Area of Expertise
Strategic communication for NGOs and civil society; the future of public TV and Radio; communications education and research; social media and independent film and video; public interest communication policies
Additional Information
Larry Kirkman, dean of the School of Communication since 2001, specializes in public service media, strategic communication for nonprofit organizations, and communications education. He was chair of the One World International Foundation, the governing body for oneworld.net, a global portal for civil society and sustainable development, from 2002 to 2006. Prior to joining AU, Kirkman directed the Benton Foundation, a leader in public interest communication: developing and promoting communication policies related to new media; assisting nonprofit organizations in the use of communications techniques and technologies; and producing Internet-based information networks that served journalism, education, and social action. At Benton, he created Connect for Kids, one of the leading Ad Council campaigns in the 1990s. Earlier in his career, Kirkman was executive director of the Labor Institute of Public Affairs of the AFL-CIO, where, among other activities, he was responsible for national advertising, including the groundbreaking Union Yes campaign and the creation of public television programs, including the America Works series. From 1979 to 1982, he served as the first director of television and video programs at the American Film Institute, where he produced the first National Video Festival. Kirkman brought video into the film program at American as an assistant professor in the School of Communication from 1976 to 1979.