Office of Graduate Academic Services
4400 Massachusetts Avenue NW
Washington
,
DC
20016
United States
Film and Media Arts Scholarships
Common ground. Greater purpose.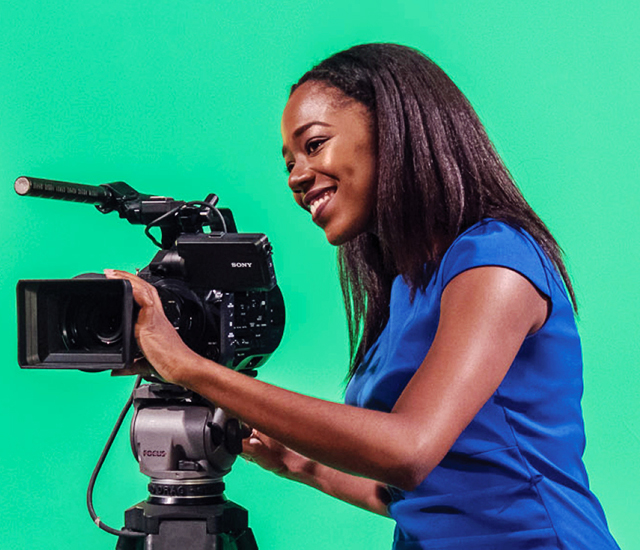 Shayla Racquel, SOC/MFA '16
I want the Baby Boomers and Millennials to recognize we need each other.
From short films to web series, Shayla builds her stories around everyday life events. She explores what makes us different, but more important, what brings us together. Sometimes that's life milestones, while other times it's a common cause or fight. Inspired by a conversation with her grandmother, her current project is a dialogue between two generations of African Americans and their unique approaches to activism.
MFA in Film and Electronic Media
Our faculty have won Oscars, Emmys, Peabody Awards, and more!
Frequently Asked Questions
Our master's in Producing Film, Television, and Video is designed for working professionals whose schedules make Saturday classes an excellent alternative to full-time study. You'll receive intensive instruction from faculty who are leaders in the filmmaking and producing fields; you'll master skills in financing, distribution, marketing, management, and entrepreneurship; and you'll form a cohort with fellow students who bring their own diverse professional backgrounds into the classroom.
A producer is the creative and business leader of a production. While most producers are classic examples of entrepreneurs who may or may not have backgrounds in the crafts of film or video production or other experience in the industry, their currency for success is an idea and the ability to develop it for the right market. The person who gets the award for "Best Picture of the Year" is the producer.
Our program provides the knowledge, skills, and experience to help you develop, finance, manage, market, and distribute content intended for the movie theater, the television screen, online, the boardroom, or the classroom.
We have an active and effective alumni mentoring program that will help you build your professional connections and networks. Because they appreciate what they learned here, our alumni keep returning to share their success. You'll find them working at media organizations across the country, and at local media organizations including PBS, Discovery Communications, The Travel Channel, National Geographic Television, Comcast/Universal, and Maryland Public Television. Many other alumni have formed their own production companies and are creating independent content and commissioned programs.
We also have two full-time career advisors to help you plan the next stage of your career.