Science
Prof Helps Scientists Connect with Public
By Sylvia Carignan
September 23, 2009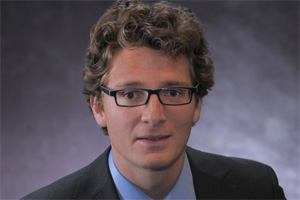 American University School of Communication professor Matthew Nisbet is working with the Botanical Society of America to bring science to the forefront of public knowledge as part of the "Year of Science," an initiative established by professional and grassroots science groups.

Other distinguished organizations have also looked to Nisbet's expertise in their mission to raise public awareness and acceptance of science. He was the guest speaker earlier this year at a discussion hosted by the National Institutes of Health and the American Film Institute. His current work on climate change communication is funded by the Robert Wood Johnson Foundation, where Nisbet is a health policy investigator.
Nisbet contributed to a joint-authored paper with Dietram Sheufele, which will be published in BSA's American Journal of Botany, one of the Top 10 Most Influential Journals of the Century, as determined by the Special Libraries Association.
The paper highlighted the role of public communication and media in the public's interpretation of science and technology. In the paper, they write that science communication must "span a diversity of media platforms and audiences; and…facilitate conversations with the public that recognize, respect, and incorporate differences in knowledge, values, perspectives, and goals."
Nisbet and Sheufele presented the paper as part of a symposium held by the BSA to educate the public about issues and progress in scientific literacy. The symposium emphasized the importance of helping people understand the importance and presence of science, as well as insight on what scientists can do to contribute to these efforts.