On Campus
Professors' 2011 New Year's Resolutions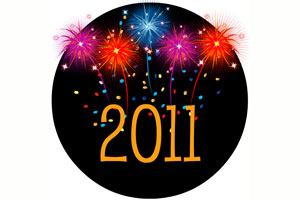 SOC professors don't do anything halfway.
If their New Year's resolutions are any indication, these professors plan to be extraordinary in 2011.
Prof. Angie Chuang isn't just hoping to get some things done: "I resolve to be ridiculously productive during my Spring 2011 junior faculty teaching leave and, most of all, to miss my daily interactions with students so much that I come back with an even greater appreciation for the surprises and insights they bring to me." 
Prof. Wendy Melillo  is also going for uber-productive, expecting to complete "two chapters a month in 2011 for my book project."
Prof. Kylos Brannon sounds too busy to make resolutions, forget about keeping them! His list:
-- "Produce a reality web series based in a DC restaurant.
-- "Set up the International Media Grad students with an awesome non-profit to produce media for.
-- Learn how to get some sleep on the weekends despite the fact that I'm now VJing  (video disc jockey) in clubs from North Carolina to New Jersey.
-- Oh yeah, and to wrap up post production on my feature that has been begging for attention for quite a few months." 
Prof. Richard Stack, who doesn't throw around superlatives casually, resolves to "redouble my efforts to help my graduating students find... not just any job, which is a decent goal in this economy, but... the right job (work that resonates with their interests and ambitions; work they find deeply fulfilling) for each one of them."
Prof. Declan Fahy wants to make sure he does his best for students as well. His resolution: "As program director for the MA in International Media, I aim to help students see the world through a wide-angle lens, so they graduate with a global view."
And Prof. Pat Aufderheide, who recognizes she works in the documentary genre way too much as director of the Center for Social Media, says she just wants to catch a couple of fiction films.