Alumni
"World War Z" Author and AU Alum Talks Zombies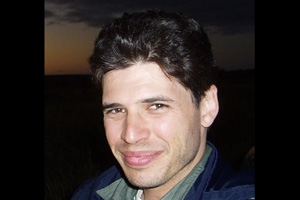 Max Brooks, (SOC/MA '97), is the author of multiple books, including "World War Z," which has been made into a hit film starring Brad Pitt. Brooks, the son of actors Mel Brooks and Anne Bancroft, won an Emmy for his comedy writing for "Saturday Night Live." He met his wife, Michelle Kholos, who is also a writer, while studying at American University.
SOC: With the 2003 publication of your first book, The Zombie Survival Guide, you were one of the vanguard in the current zombie craze. What do you think makes zombies so captivating to people?

BROOKS: I think it has to do with the times we live in. A lot of people are nervous. They see one global crisis after another and they need a place to explore their apocalyptic anxieties.
 
SOC: Your second book, World War Z, premieres as a feature film in July, and The Zombie Survival Guide and The Zombie Survival Guide: Recorded Attacks are also planned to be made into films. What is it like to see your books move to the silver screen?

BROOKS: I tend to take things in Hollywood with a 'wait and see' attitude. Maybe something will happen, maybe it won't. And if it actually does happen, maybe it'll be something I might like.

SOC: The Zombie Survival Guide and World War Z are so specific in the analysis of zombies, the threats they pose and the logistical challenges that need to be overcome in order to survive that the U.S. military has invited you to speak about disaster preparedness for events such as hurricanes. What was your reaction the first time the military approached you about disaster training? What do you think you are uniquely able to bring to those discussions?

BROOKS: At first I thought it was a clerical error. I thought there might be another Max Brooks, some naval officer from the war plans division who had had his name mixed up with mine. Turns out they actually wanted me. Go figure. I guess if I can add anything to these high level strategic discussions, it's the ability to tie everything together. I like big picture thinking. I like exploring how everything affects everything else. Some people in uniform seem to like what I have to say.

SOC: The extended audio book version of World War Z features the voices of a lot of big-name stars including Martin Scorcese, Common, Alfred Molina, Nathan Fillion and Simon Pegg. That's in addition to the impressive line-up on the original, abridged audio book which won an Audie Award for best multi-voiced performance including Alan Alda, Carl Reiner, Mark Hamill, John Turturro and Henry Rollins. What do you think drew such a broad spectrum of people to the project? Is there any one audio performance that you think is really outstanding?

BROOKS: I thought the book was perfectly suited for an audio adaptation. It's already a collection of interviews. I've also always loved big ensemble casts; The Longest Day, A Bridge Too Far, and pretty much every Irwin Allen movie. I couldn't believe I got so many talented people to come aboard. As amazing as they all were, I'd have to say that my favorite voice came from Michelle Kholos. She was amazing; haunting and dark and actually kinda sexy. I wonder what she's up to these days?
 
SOC: Is there anything you learned during your time at American University that still influences you today?

BROOKS: NEVER take no for answer! At AU I learned never to listen to the people who told me "You can't do that." If I'd believed them, who knows where I'd be.