Communications
Top Strategic Communication Students Honored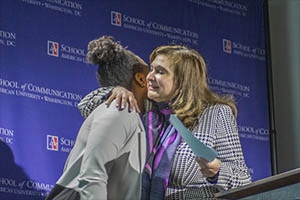 The American University School of Communication has celebrated the outstanding work of its students every spring for 10 years with its annual Public Communication Awards. Focusing on the public communication discipline, projects that are recognized include strategic communication plans and papers, portfolio projects, digital campaigns, strategic research, and graduate capstones, among others.
In addition to their classmates, students are honored in front of representatives of our industry leading sponsors: APCO Worldwide, Ogilvy, Hager Sharp, Penn Schoen Berland, Beekeeper Group, Discovery Communications, TLC and Marina Maher Communications.
The Public Communication Awards is taking a pause in 2018 as we reimagine how to best honor our students' achievements. We are so appreciative for the many relationships formed through this meaningful program and would especially like to thank our external sponsors for their support and dedication over the past decade. If you have suggestions or questions as we reimagine other ways to celebrate our students' work, we would love to hear from you at pcawards@american.edu.
2017 Public Communication Award Winners
Best Digital Campaign
Undergraduate
Julia Kligman
Graduate
Anna Beth Jager

Best Strategic Research
Undergraduate
Lucca Vaselli
Julia Kligman
Andrea Padron
Graduate
Tiffany Win
Devin Smith
Vanessa Parreco
Best Strategic Communication Plan
Undergraduate
Rhianna Kern

Graduate
Matt Gohn

Best Portfolio Campaign
Richard Bullwinkle
Jennifer Bohlman
Renee Orcione
Lexi Nai
Jasmyn Shumate
Best Graduate Capstone
Michele Alexander
Audrey Lopex
Dotty Lynch Award for Best Political Communication Paper
Laura Nichols
Recognition for Outstanding Contributions to Promoting Diversity
Undergraduate
Killian MacDonald

Graduate
Ryan Jordan
Outstanding Contributions to the SOC Community
Coby Eiss