School of Communication
4400 Massachusetts Avenue NW
Washington
,
DC
20016
United States
L.A. Intensive: The Sequel!
Reprising the success of last year's premiere, the second installment of the American University School of Communication (AU/SOC) L.A. Intensive 2019 initiative lived up to its name, giving 14 students and recent alumni exclusive entrée to the film, television, and entertainment industry in Los Angeles.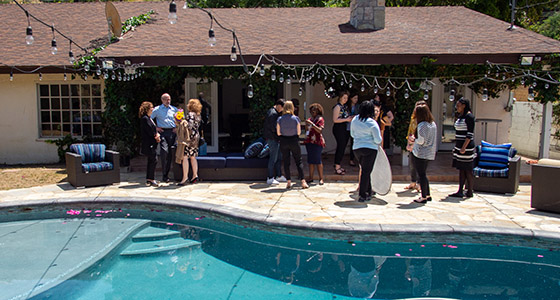 Taking place from May 15 to 22, the group assembled at "AU West," a mini-compound in the mountains overlooking Beverly Hills. The rented home served as their residence and focal point of activities including presentations from alumni and other speakers working at all levels and all sectors of the industry. Its central location also provided a jumping off point for site visits to venues such as Nickelodeon Animation Studio, CBS, Amblin Studios, Warner Bros. Studios, and the CW Network.
Guest speakers (see sidebar) included the heads of studios and production firms, Oscar-winning screenwriters, film directors, and TV showrunners as well as fellow AU grads who moved to Los Angeles in recent years and are working up through the ranks.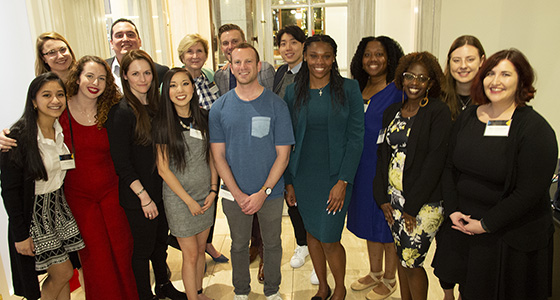 Wednesday, May 15
12—5:30 p.m.

Students Arrive

6:30—8:30 p.m.

Young alumni @ AU West including Jeff Della Serra, A.J. Berna, and L.A. Intensive 2018 participants
Thursday, May 16
10:30 a.m.—1 p.m.

Site Visit @ CBS with Clyde Kaplan

1—3 p.m.

Lunch at The Grove

6:30 p.m.

Entertainment and Media Alumni Alliance Networking Reception @ the Intercontinental Hotel, Century City, featuring Charlie Wachtel, David Rabinowitz, Eddie Leavy, Anedra Edwards, and Natalie Sasser.
Friday, May 17
10:00—11:30 a.m.

Danielle Gelber and Amber Glancy @ "AU West"

12—2 p.m.

Lunch and Conversation with Roya Vakili @ "AU West"

12—2 p.m.

Site Visit to Echo Lake Management with Claudia Myers

3 p.m.

Roy Lee @ "AU West"

6 p.m.

Dinner and Conversation with Barry Josephson, hosted by Barry and Brooke Josephson
Saturday, May 18
9:30—11 a.m.

Visit with Liz Kruger and Craig Shapiro, writers for the reboot of Charmed

3—5 p.m.

Conversation with Rob Chiappetta and Michael Menachem @ "AU West"

5 p.m.

Dinner and Presentation with Andrew Greenberger @ "AU West"
Sunday, May 19
All day

Independent/Small Group Student choice day: Universal Studios, Disney, Santa Monica Beach, Getty Museum, Walk of Stars, meet with other contacts, coordinate logistics for staying in L.A. after the Intensive program concludes
Monday, May 20
11 a.m.

Afshin Shahidi @ "AU West"

2—5 p.m

Site Visit @ Nickelodeon Animation Studio

7 p.m.

Adam Goodman @ "AU West"
Tuesday, May 21
10 AM—1 p.m.

Site Visit @ Amblin Studios with Darryl Frank

2—4 p.m.

Warner Bros. Studio Tour

5 p.m.

Site Visit and Dinner @ The CW Network with Mitch Nedick, Dana Bramble, and Anedra Edwards
Wednesday, May 22
Morning

Depart L.A.
The action got underway within hours of arriving at the house with a panel featuring recent film grads Jeff Della Serra (BA) and A.J. Berna (MFA) talking about their transitions from D.C. to L.A.
In addition to the action taking place at "AU West" and on the tours, participants had ample opportunity to mingle and exchange info with the vast network of AU Eagles and friends of the university working throughout Southern California. Among the highlights was the AU Entertainment and Media Alumni Alliance gathering at the Intercontinental Hotel in Century City.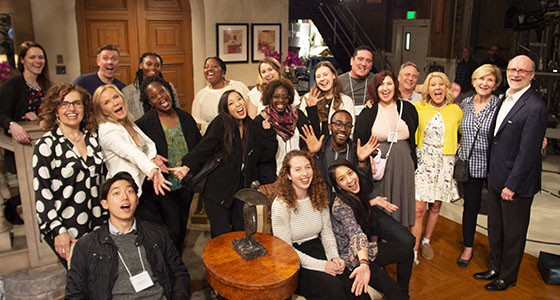 "L.A. Intensive is the type of experiential learning opportunity that I think really distinguishes SOC," said Dean Jeff Rutenbeck. "For the members of the cohort, it can open doors that otherwise might stay shut. And for the folks coming in from the industry, it gives them access to some tremendously creative and certainly highly motivated new talent."
Both L.A. Intensive 2018 and 2019 were organized by SOC Assistant Professor Sarah Menke-Fish and SOC Chief Development Officer Nada Maalouf. AU Career Center Advisor Felicia Parks was also instrumental in facilitating the event both years.
Special thanks to our alumni and supporters who made L.A. Intensive 2019 possible:
A.J. Berna
SOC/MFA, Editor, Vin Di Bona Productions
Dana Bramble
SOC/BA, Showrunners' Assistant, The CW Network's Charmed
Rob Chiappetta
SIS/BA, Writer and Producer in Television and Film
Jeff Della Serra
SOC/BA, Account Executive, BLT Communications, LLC
Anedra Edwards
SOC/MFA, Visual Effects Assistant Editor, The CW Network's Black Lightning
Darryl Frank
SOC/BA, Co-President, Amblin Television
Danielle Claman Gelber
SIS-SOC/MA, Owner and Founder, Acoustic Productions
Amber Glancy
Executive Assistant, Wolf Films
Adam Goodman
Founder and CEO, Dichotomy MicroStudios
Andrew Greenberger
SOC/BA, Co-Founder, Journey Entertainment
Barry Josephson
SPA/BA, President, Josephson Entertainment
Clyde Kaplan
SOC/BA, Associate Director, Bell-Phillip Television Productions
Liz Kruger & Craig Shapiro
SOC Parents, Owners, Still Married Productions
Eddie Leavy
SOC/BA, Actor, A.P. Bio
Roy Lee
WCL/JD, Founder, Vertigo Entertainment
Michael Menachem
SOC/BA, Business Representative – Music, SAG-AFTRA
Claudia Myers
Associate Professor, SOC
Mitch Nedick
SPA/BA, Executive VP/CFO, The CW Network
Nickelodeon Animation Studio
Natalie Sasser
SOC/MFA, Senior IT Business Analyst, Twentieth Century Fox
Afshin Shahidi
SOC/BA, Cinematographer, Photographer
Roya Vakili
SOC/BA, Senior VP, International Marketing, Fox Searchlight
Charlie Wachtel
SOC/BA, Screenwriter, BlacKkKlansman