Communications
Visions Awards Honor Top Visual Work from American University Students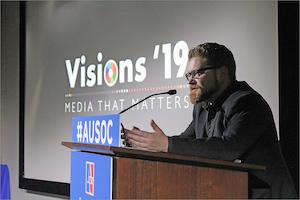 This year's Visions Awards Ceremony celebrated the 40th anniversary of the annual celebration of student media excellence at SOC. Visions highlights the best in American University School of Communication (AU SOC) student work in film, photography and new media. Award categories include fiction videos, documentaries, screenplays, photo essays, single images, environmental films and more. The awards are open to both graduate and undergraduate students.
At the ceremony, faculty and students honored Glenn Harnden, professor emeritus, who founded the awards. Harnden taught at SOC for more than 30 years and was instrumental in developing AU's first degrees in film.
The list of winners is below. View all nominees.
After receiving his award, Harnden, left, addressed the Visions audience of students, faculty and friends. SOC Dean Jeff Rutenbeck, center, and John Douglass, right, a longtime colleague of Harnden's, look on.
2019 Visions Award Winners
Graduate Screenplay
Documentary Screeplay
Beth Ebisch - Protecting Giants 
Fiction Feature Screenplay
Kat A. Cooper - Follow or Die
Fiction Short Screenplay
Zan Gillies - Last Strike 
Graduate Video
Graduate Doc
Quame Hamlin - Becoming Donna Slash
Graduate Fiction Video
Shirin Saghaie - Katie
Graduate Thesis
Fiction Thesis
Zan Gillies - Last Strike 
DOC Thesis 
Mike Kuba - The Bridge
Undegraduate Screenplay
Feature Screenplay
Arnetia Walker Francis - The Other Side of The Journey
Undergraduate Documentary Screenplay
Cecilia Wardani - Momoye
Short Fiction Screenplay
Jacob Montes - Glow
Undegraduate Video
Undergraduate DOC
Cassidy Nelson - Life in a DC Park
Undergraduate Fiction Video
Danielle De Vito - Něco Si Přej
Photography
Experimental 
Jacob Montes - Syzygy
Commercial
Matt Francisco - Matt Francisco Commercial Photography 
Single Image
(Tied 1st): Matt Francisco - At Midnight (Tied 1st): Kyle Mendlesohn - This Poem Is Not Meant To Be Read Aloud 
Fine Art Essay
Izzy Capodanno - Untitled 
Documentary Essay
Kitty Kouwenhoven - Across Town
Photo Essay
Xianqui (Kim) Liang - Cuba
Other
Broadcast
Emma Galasso - Wilson High School Name Change
Environmental
Dhara Brown in COMM-568 - Anacostia Revealed
Music Video
Laura Snyder - Jacqueline Suite
New Media
(Animation): Lesia Olesnyckyj - Principles of Graphic Design: Composition
(Editing): Laura Decelles - Autobiographical Mashup
(Website): Juana Capelluto - IKEA-Assemble: Mobile App
(Webseries): Caecilia Wardani - I Think I'm In Love With pt.1
(Digital Imaging): Nora Marris - True Crime Animals
(Motion Graphics): Alexis Arnold - Brands in Motion: The Blackprint
Named Award Winners
WILL Interactive: Zan Gillies - Last Strike
SONY: Mike Kuba - The Bridge
IMG New Media: Juana Capelluto - IKEA-Assemble: Mobile App
Ron Sutton Visual Literacy: Lauren Mitchell, Lia Patentas, Julia Morgan
WIFV Craft Editing: Laura Decelles - Autobiographical Mashup
WIFV Craft Audio: Allison Krause - Capture
WIFV Craft Cinematography: Melany Rochester & Sofia Abate - Petra
WIFV Diversity & Inclusion: Fernando Rocha & Fernanda Perez - El Maestro
Neel Foundation Scholarship in honor of Professor John Douglass - Hyatt Mamoun, Kathleen Gaeta, Elise Moor.