Communications
2020 Student Journalism Awards and Honors Announced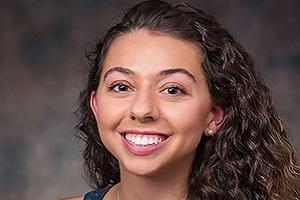 School of Communication senior Kimberly Cataudella has been named the recipient of the 2020 Rodger Streitmatter Journalism Award for Excellence for her outstanding scholarship and dedication to the field of journalism.  
In addition, 13 students have been invited to be inducted into the Kappa Tau Alpha (KTA) national honor society, which recognizes academic distinction in journalism and mass communication. It is open to high-achieving juniors and seniors in those fields. 
Cataudella is the fourth recipient of the Streitmatter Award for Excellence, established in 2017 to pay tribute to Rodger Streitmatter, the popular SOC professor and scholar, former newspaper reporter and alumnus. The award was created by his husband, Thomas B. Grooms, to recognize and encourage undergraduate students pursuing careers in journalism. It includes a $2,000 prize, a certificate and the winner's name engraved on a trophy that will be displayed at SOC. Cataudella will also be honored at a reception in the fall.  
'Driven by a passion' 
Streitmatter praised Cataudella's application. "It was such a pleasure to read Kimberly's essay about why she chose to major in journalism," he said. "Not only was her essay technically flawless and gracefully written, but it also was substantive and driven by a passion that is wonderful to see in a young journalist." 
As an undergraduate, Cataudella, a double major in journalism and religious studies, worked as the sports editor and a news reporter for The Eagle and interned in SOC's Investigative Reporting Workshop. She also completed internships at Newsday Media Group and NBC Sports. Those experiences sparked her interest in investigative journalism, which she'll explore more deeply next year in SOC's master's program in Journalism and Public Affairs. 
 
"There are always stories that are beneath just what's happening right now that I'm excited to get to flesh out," said Cataudella. "Doing the investigative journalism specialization through the AU master's program is going to be really great because I'll get to practice and learn from people who are so skilled at reporting investigative stories." 
The additional Streitmatter Journalism Prizes, which are awarded to the best undergraduate student work in six categories, were not given this year due to the semester change in the wake of the pandemic. Students will have the opportunity to compete for them again in 2021, as they will for KTA. 
Lynne Perri, professor of journalism and managing editor of the Investigative Reporting Workshop, serves as faculty advisor to AU's KTA chapter. 
"I'm always so impressed by the academic success of our students when looking at potential inductees for Kappa Tau Alpha," said Perri.  
 
"Our students take rigorous courses, often double major or earn dual degrees, and win praise from the faculty for constantly striving for excellence," she said. "We were thrilled to induct this year's group of journalism and communication studies majors into the KTA national honor society." 
AU 2020 KTA Inductees 
Kimberly Cataudella 
Austin Cirillo  
Emma Jessica Dion  
Shannon Marie Durazo   
Rebecca Evans  
Isabella Grande  
Lauren Patetta 
John Purcell 
Lindsay Taylor Russell  
Hannah Shows 
Elise Rose Sprouls 
Savanna Strott 
Keun Woo Lee