Communications
2021 Student Journalism Awards and Honors Announced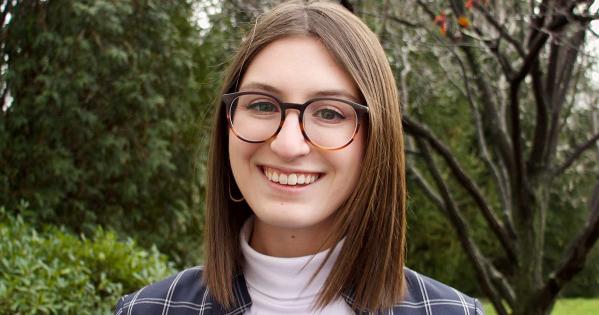 American University School of Communication (AU SOC) senior Stephanie Mirah has been named the recipient of the 2021 Rodger Streitmatter Journalism Award for Excellence for her outstanding scholarship and dedication to the field of journalism.  
In addition, 11 students have been invited to be inducted into the Kappa Tau Alpha (KTA) national honor society, which recognizes academic distinction in journalism and mass communication. It is open to high-achieving juniors and seniors in those fields. 
Mirah is the fifth recipient of the Streitmatter Award for Excellence, established in 2017 to pay tribute to Rodger Streitmatter, the popular SOC professor and scholar, former newspaper reporter and alumnus. Professor Streitmatter retired in December 2020. The award was created by his husband, Thomas B. Grooms, to recognize and encourage undergraduate students pursuing careers in journalism. It includes a $2,000 prize, a certificate and the winner's name engraved on a trophy that will be displayed at SOC.
During her time at American University, Mirah served as both a reporter and an editor for The Eagle, AU's undergraduate student news site, as well as an editor for AmLit, the American University Literacy magazine. Mirah also completed four internships during her undergraduate career. Post-graduation, Mirah has secured a full-time job as a reporter for The Post and Courier Newspaper in South Carolina.
Professor Streitmatter praised Mirah's essay and asked her to read it at the ceremony because he was impressed by its meaningful message. In her essay, Mirah revealed a change of heart as to her reasons for pursuing a career in journalism that happened while at AU. "Today, I choose journalism because communities deserve strong newsrooms. Journalism isn't about me. Yes, it is my job and one I take seriously, but it's about serving the public who deserve thoughtful, fair, and accurate reporting," she said.
In addition, several other students were honored as recipients of the Rodger Streitmatter Journalism Prizes. India Awe received first place for Best News Story from COMM 320 Reporting with Skye Witley in second place; Savanna Strott received first place for Best News Story from COMM 425 Advanced Reporting and Carmenlucia Acosta and Kelsey Carolan were awarded second place; Alle Plourde received first place for Best Audio Story with Kaela Roeder in second place; MacKenzie Galloway received first place for Best Video Story and Robyn Walters was awarded second place; and Grace Vitaglione received first place for Best Investigative Plan with Isabella Goodman in second place.
Journalist in Residence and Managing Editor of the Investigative Reporting Workshop Professor Lynne Perri, serves as faculty advisor to AU's KTA chapter. "It's a privilege each year to review the academic success of our students to determine who is eligible for induction in the national honor society for journalism and mass communications," she said."These students are exceptional in their commitment to the ideals of the organization — knowledge, truth and accuracy. And we were especially pleased to be able to host a program in which so many parents and other guests could join us to give them the recognition they deserve."
AU 2021 KTA Inductees 
Niccolo Bechtler
Rebecca Crosby
Sasha Fernandez
Grace George
Samantha Liptak
Kelly McDonnell
Stephanie Mirah
Sultana Qureshi
Emily Tran
Abigail Veitch
Braeden Waddell