Internships
SOC Journalism Student Wins First AU-AP Foreign Internship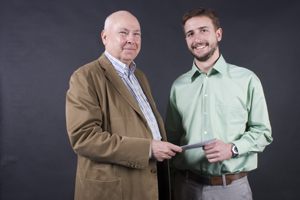 David Coffey, who is finishing his master's degree at American University School of Communication (SOC), leaves this week for Bangkok, Thailand, where he will spend the summer honing his backpack journalism skills as the first AU-Associated Press foreign intern.
Although the Associated Press has a robust domestic internship program, this is the first formal, foreign internship the agency has extended to any university student. The AP is the largest and arguably the most important news and information-gathering organization in the world. The internship came about as the result of efforts by professor Bill Gentile--documentary filmmaker, photo journalist and SOC artist in residence--and Santiago Lyon, AP's Director of Photography. Gentile and Lyon covered conflicts raging through Central America in the 1980s. 
"AP is a tremendous resource for SOC. By working with the AP team in Bangkok, David will have a chance to learn from some of the finest foreign correspondents in the world. Starting July 1, AP will also distribute the original work of SOC's Investigative Reporting Workshop--the only university-based, independent news organization it has decided to distribute," said SOC Dean Larry Kirkman.
The AU-AP Foreign Internship is designed for students using the "backpack journalism" model to create content for television and the Internet. Backpack journalism uses a single, properly trained professional journalist with a hand-held digital video camera to create a more immediate and intimate brand of storytelling than that attainable by larger cameras and extended crews. 
Coffey's awards include a $500 honorarium from SOC and another $500 from Professor Gentile. AU students are eligible for the internship after they take Professor Gentile's Foreign Correspondence class as well as his Backpack Documentary class.