Government & Politics
Chuck Todd and AU Students Talk Election 2012 for NBC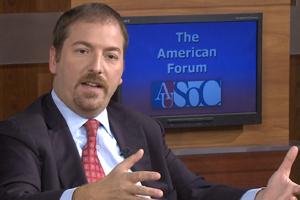 Chuck Todd of NBC News joined American University students and professor Jane Hall for a recent American Forum on young people and issues in the 2012 presidential election. The discussion was filmed in the American University's School of Communication Media Production Center as a pilot for NBC4; the program will air October 13 & 14 on NBC Non-Stop, the digital channel from NBC4 and on NBCWashington.com. The program is produced entirely by SOC, with students not just in front of the camera but also comprising the crew shooting the program in SOC's HDTV studio.
The American Forum, a wide-ranging discussion about politics, media and culture, is the brainchild of Hall, SOC journalism professor and longtime executive producer/moderator of the American Forum programs. The American Forum was originally a series of on-campus town-hall events, but over the past year Hall has been working with SOC and NBC4 TV to develop the American Forum as a TV/online program. An in-studio TV American Forum last fall with Julian Bond and a group of students on the MLK dedication that was a "prequel" to the event with Todd.
Todd, the host of MSNBC's Daily Rundown, took questions from Hall and 19 students from SOC and the School of Public Affairs on issues from immigration to the debt. Media coverage of the candidates and election turnout were also debated. There was also some back-and-forth with Todd about his own work on NBC and MSNBC, and some candid discussion of how young people view politics and media today.
Many of the students involved are campus leaders involved with political groups, including Emily Yu, head of Student Government; Josh Kaib head of College Republicans; Ryan Mageed , an officer with the College Democrats; Charles Walker, officer of Black Student Alliance, and Stephen Bronskill, a member of Eco-Sense.
The program will air on NBC Non-Stop, the digital channel from NBC4, from 12-1 p.m. on Saturday 10/13, and from 8 to 9 p.m., on Sunday, 10/14 for viewers in Maryland, VA and DC , potentially reaching 1.6 million TV viewers as potential audience. Channels are: Digital 4.2, Comcast 208, Cox 803, Verizon 460, and RCN (varies).