Achievements
David Schultz Wins 2012 Merriman Award
By Michael Wargo
March 7, 2012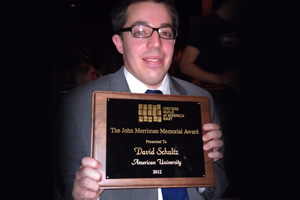 American University graduate journalism student David Schultz was selected as the 2012 winner of the Merriman Award, an honor named in memory of the CBS news writer John Merriman who was president of the Writers Guild-East.
He traveled to New York City to accept the award, which included a $1,000 check, at the 64th Annual Writers Guild Awards on Feb. 19.
Schultz says the award humbled him. "Given the stature of both the man the award was named after and the man who created the award, AU journalism department founder Ed Bliss, I am truly honored."
Schultz says the classes he's taken at SOC will be invaluable for him moving forward in his career. "Before I came here, I was primarily a radio journalist who could also do some print work. Now I feel like a true multimedia journalist who can be proficient working in any platform," said Schultz. "I have also really enjoyed getting to know the faculty and learning from their experiences, and the guest speakers who have come to talk to my classes have been phenomenal. Meeting them has been a great learning experience, not to mention a really great networking opportunity."
Journalism division director Jill Olmsted said Schultz has already proven himself to be a born storyteller. "David came to us after working for WAMU as an on-air reporter and his work in grad school has been outstanding," she said.
One radio story Schultz did as an independent study with Olmsted was aired on WAMU. "It was a sophisticated piece of journalism that took deep research skills and outstanding people skills to get on-the record stories from DC's streets about prostitution laws," said Olmsted. "He got gritty on-the-street interviews, taking listeners into a dark side of the city that few reporters delve into."   
Schultz reported for WAMU while traveling with a New Hampshire primary class in January. 
He is a mentee of radio personality and SOC alum, Bob Edwards, who was delighted to hear of his winning the Merriman Award. "David Schultz is not waiting for graduation to have an award-winning journalism career.  It's nice to find a strong work ethic, good judgement and respect for traditional news values in a 20-something journalist," said Edwards.  "It'll be fun to see what he does next."
The Guild Awards are given for outstanding achievement in writing for the screen, from news to sit-coms and dramas, presented at simultaneous ceremonies in New York and Los Angeles. Presenters included late night talk show host Jimmy Fallon, actress and writer Kristen Wiig (Bridesmaids) and writer and comedian Seth Meyers. Actress and comedienne Rachel Dratch (Saturday Night Live) hosted the event.