Education
SOC  High School Program Kicks Off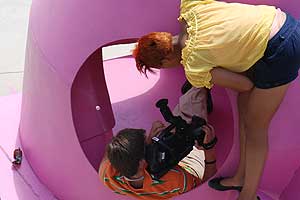 Four hundred young people from 40 states and 13 countries will assemble this summer at American University School of Communication (SOC) for Discover the World of Communication, a hands-on interactive program that introduces high school students to a field that includes everything from weather broadcasting and backpack journalism to music video production and flash fiction writing.  
The first two-week session kicked off Monday, June 22 with a warm-up exercise led by Chris Palmer, Distinguished Film Producer in Residence and Director of SOC's Center for Environmental Filmmaking.  Within minutes, Palmer had the students on their feet, greeting one another and sharing what they hoped to get from the program.   
John Douglass, director of SOC's Film and Media Arts division, spoke to the students about the responsibility that comes with being a storyteller through media.   
After meeting their teaching assistants and faculty, the students headed for their classrooms and labs.  They checked out video equipment, learned how to use a camera and some even began filming.  Others discussed characters, shots, angles and effective techniques for storytelling.  Some classes critiqued examples of news shows and other forms of media to determine what strategies work best.  
As part of the program, students will visit the American Film Institute, the Newseum, Fox 5 Studios, Comcast, and other communication organizations in Washington, D.C.  You can see highlights of their experience on the program's daily video blog. The students are participating individually or as members of the communication division of the National Student Leadership Conference.  
Now in its fifth year, Discover the World of Communication is directed by its founder Sarah Menke-Fish, a documentary filmmaker who in 2005 was selected Faculty Member of the Year by the AU Student Confederation.  Before joining the SOC film faculty, she coordinated the Humanities and Communication Magnet Program for gifted and talented students in the Montgomery County, Maryland public schools.