Television & Film
Using South Park to Teach Diversity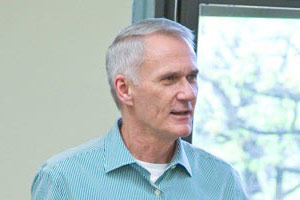 For School of Communication students, a comfort with discussing sensitive issues is crucial for success in the field, something that SOC professor Rodger Streitmatter tries to facilitate in the classroom. We talked to Streitmatter about how and why he makes diversity a key component of his courses, and where South Park fits into his lesson plan.
 


Q: Why is diversity an important element of education?

A: I place a high value on diversity, in my teaching as well as my research. It's absolutely essential, in my opinion, for faculty members to help prepare their students for working and living in a world that's increasingly diverse.

For a lot of young people, when they come to a university, it's the first time that their world has been expanded—as they're exploring these parts of the world, we as faculty members should facilitate that.

Q: Why is it important that SOC have a focus on diversity?

A: Many of these topics are very sensitive ones that people aren't very comfortable talking about. Bringing it into discussion helps ease people's comfort level with it. Because these students will go on to be professionals in communication, I don't think we should shy away from it.

Q: How do you incorporate diversity into your teaching?

A: It's a personal commitment for me—illuminating some elements that people haven't really paid attention to. One of the steps I take when I'm putting together a course is conducting what I call a "diversity audit." In other worlds, before I finish a syllabus, I look through the readings and assignments to make sure I've included
content related to the media and the three critical areas of diversity: race, gender and sexual orientation.

This semester, for example, I'm teaching a course titled Understanding Media. It's an important course because it's the first one that all undergraduate communication students take, plus it' also a General Education course available to students throughout the university.

Regarding race, I'm having my students read a chapter about the new media's role in the Civil Rights Movement. On gender, they'll read an article titled "Girls Gone Anti-Feminist" that raises questions about the messages being sent by TV shows such as The Hills and America's Next Top Model. And on sexual orientation, they'll read a chapter about the explosion of gay and lesbian content on TV, in movies, and in the news during the 1990s.

I also find other ways to bring these subject areas into the course. I have students read a book about South Park, as an example of a contemporary TV program that uses satire to send substantive messages about the culture. I also show several segments of South Park, and one of them is titled "Chef Goes Nanners." It's all about race and the contrast between how race is viewed by adults and by children.
Rodger Streitmatter is the author of Mightier Than the Sword: How the News Media Have Shaped American History. His new book Outlaw Marriages~The Hidden Histories of Fifteen Extraordinary Same-Sex Couples will be released in 2012.