Communications
Startup Tips from Honest Tea CEO Goldman Inspire Students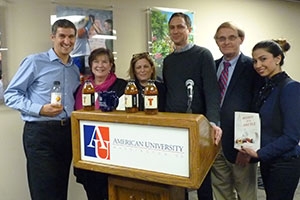 The stress of growing a business was so overwhelming for Seth Goldman, president and CEO of Honest Tea, that he  cracked a tooth while grinding his teeth in his sleep.
His dentist proposed two options: Goldman could change his lifestyle or invest in a mouth guard. He chose the guard.
"I still wear a night guard," he said. "It was hard work 15 years ago and it's still hard work."
That kind of personal anecdote kept the audience at a recent American University's engaged, while his entrepreneurial success story inspired them, too. The talk was part of the DC Startup Forum series, co-sponsored by the School of Communication's M.A. in Media Entrepreneurship (MAME), WAMU 88.5 and J-LAB, the Institute for Interactive Journalism.
In a Q&A with Jan Schaffer, entrepreneur in residence and J-Lab executive director, Goldman detailed launching Honest Tea as a healthy, organic beverage alternative from his Bethesda, Md. kitchen. "We created something different and valuable," said Goldman, who continues to work as the CEO, although Coca-Cola bought the company in 2011.
 Goldman co-founded Honest Tea in 1998 with Barry Nalebuff, his professor at Yale. His first successes involved making batch orders of tea, he told Schaffer. He would soak gallon-sized bags of tea leaves in vats of water before bottling and delivering the beverage with his friends. One of his greatest challenges was labeling 15,000 bottles for Whole Foods Market.
"It was ugly," he laughed, "but we did manage to make our delivery day."
Dena Levitz, a second year student in the MAME program, enjoyed the way Goldman made an account of building a business more personal with his humorous stories. It's similar to the style of his graphic novel, Mission in a Bottle, which he talked about at the event.
Goldman argues that one of the secrets to his success was maintaining a positive demeanor while entering a highly competitive market. He says it helped him stand out amongst competitors with a sustainable business model.
Linh Quach, president of Q International, Inc., was one of the first people to arrive at the event and eager to hear Goldman's insight into handling competition. She said she struggles with expanding the clientele base for her international sourcing company.
"[Goldman] has placed a product in a market that is saturated," she said. "He has succeeded and differentiated himself. I want to hear how he did it."
Attending events like the DC Startup Forum are great for picking up better entrepreneurial practices, says Quach.
Levitz also found  the discussion valuable. She resigned from her job at the Newspaper Association of America to focus on new ideas and programs that are closer to her interests. After hearing Goldman, she said she feels she's on the right path.
"Any time you hear it from the horses' mouth, so to speak, it gives you more faith that it can be done," she said.