Journalism
Student Experiences ONA 2010 First Hand
By Ethan Klapper
November 8, 2010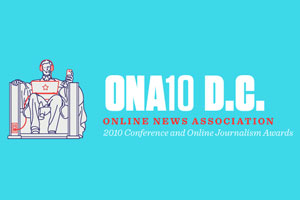 SOC student Ethan Klapper had the opportunity to attend the 2010 Online News Association Conference held in Washington, D.C. in Oct. Below is his first person account of the experience:
A few weekends ago, I had the privilege of attending the 2010 Online News Association Conference as a member of the student newsroom. Attending the conference was an amazing experience, not only because I learned a lot in the sessions, but also because of all the networking I got to do with both industry leaders and other journalism students from around the country.
I was determined to attend this year's ONA conference, which was held right here in D.C., after I saw tons of tweets and blog posts about last year's conference in San Francisco. This past spring, I applied to be in the student newsroom. As a member of the student newsroom I would help cover the conference for the conference website. In exchange, I would be able to attend, free of charge.
For the website, I covered a session on DocumentCloud, a service that allows news organizations to annotate primary source documents for its readers, as well as a session on news apps. In addition, I wrote a feature about all the volunteers who were attending the conference, many for economic reasons.
I could not have asked for better peers to work with in the student newsroom. I had been chatting with a few of the participants on Twitter for a number of months leading up to the conference, so it was really cool to finally meet them in person. Meeting other student journalists who eat, sleep and breathe journalism, like me, was simply awesome.
Another source of pride for me was the large presence the School of Communication had at the conference. I chatted with Dean Larry Kirkman a number of times, and also had some great conversations with Professors Jane Hall, Wendell Cochran, Angie Chuang, David Johnson and Amy Eisman. Eisman, along with SOC alumnus (and adjunct professor) Josh Hatch were the co-chairs of the conference. (By the way, they did an awesome job.)
In addition, Professor Lynne Perri was a co-chair of the student newsroom, and it was great to work with her. Her advice was very helpful to both me and the other student newsroom participants.
The connections I made at ONA10 will be long lasting, for sure. As a senior graduating in a number of months, it was also great to talk with some really talented online journalists in a relaxed, informal setting. Opportunities like this are not ones you get on a daily basis.
I encourage all students who will be attending SOC in the fall of 2011 to consider applying for the 2011 conference's student newsroom, which will be held in Boston.