Communications
One-Day Courses Offer Immersive Experiences for Strategic Communication Professionals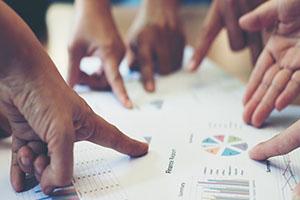 Staying on top of the strategic communication and public relations field means constantly having to master diverse and dynamic skills. But when you're already facing hectic personal and professional schedules, keeping up seems almost impossible. To meet these demands, the School of Communication (SOC) at American University (AU) has created a new Skills Intensives series, featuring courses that provide flexible online training with a one-day in-person, on-campus experience.
The first in the fall 2018 series, "Crisis Communication: Managing the First 72 Hours," is geared toward those who want to possess the knowledge and experience needed to skillfully and ethically manage crises. The course, which takes place on Friday, October 5 from noon to 5:00, and will also feature an online element, teaches you how to respond effectively to emergencies by leading you through a crisis simulation. By the end of the class you will learn how to execute effective crisis communication strategies and tactics that will help tackle a range of possible outcomes.
The second offering, "Social Media Analystics + Meltwater Certification Class," which takes place on Friday, November 9 from 8:30 am to 2:00 pm, lets you explore digital analytics in social media and use that data to craft better content and more effective deployment strategies through real-time simulation. Students will work independently online to engage with content before the first class and then come to campus to participate in a half-day, intensive seminar. Prior to the in-person session, students will need to complete the online Meltwater training and earn a Meltwater certification. View example of the online component.
These classes enable professionals to hone their skills as well as allow people who are changing careers to experiment other areas of expertise," said Dina Martinez,  Associate Division Director of the Public Communication Division, who is overseeing the series. 
The introduction of these courses also reflects SOC's determination to be more responsive to market needs by offering more classes that are flexible in terms of the amount of time they take and also by providing a mix of online and in-person experiences," she added.
SOC Skills Intensives can be taken either for credit or non-credit and are open to current students, alumni, and the general public. Applicants must have a bachelor's degree in order to enroll.