First Person
My Afternoon with President Obama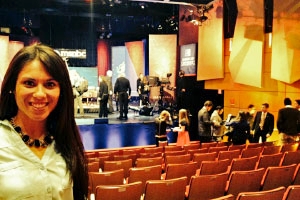 December 5 was an atypical day for 300 American University students, faculty members and affiliated staff who joined Hardball host Chris Matthews for an exclusive Town Hall-style interview with President Barack Obama at AU's Greenberg Theater. I was fortunate enough to be one of them, as a junior majoring in broadcast journalism at AU's School of Communication.
Young or old, conservative or liberal, the AU collegians and affiliates were honored and proud to host President Obama for the third time, underscoring AU's prominence within the Washington, D.C. community.
Excited suspense filled every crevice of the auditorium as we awaited the arrival of the Democratic president for two hours before the interview began. Suddenly the restless tension was released as the charismatic president walked on the stage with a welcoming smile and a wave to the crowd.
As the interview began, it became evident that Matthews would refuse to allow the commander-in-chief to dodge complex issues concerning the millennial generation. President Obama responded, providing his solutions to hot topics such as the political gridlock in Washington and the increasing apathetic sentiment expressed toward American politics.
President Obama said that he could only execute so much political action without the help of a partisan government and the faith of the American people. He warned that politics will continue to hinder economic and social progress if collective action is not embraced.
Despite his declining approval ratings, President Obama spoke with moral conviction and grace. He acknowledged the recent technical mishaps with the healthcare website, but provided his solutions to move forward.
Although the short 35-minute interview didn't leave time to discuss foreign policy issues, most attendees seemed content as they vocalized their reactions to Matthews after the interview concluded.
While a few may continue to be disillusioned with the President's solutions to "reduce inequality and broaden opportunity," many students still expressed high hopes to enter the political realm.
President Obama appeared impressed with the number of students passionate about politics, warning the future politicians to wear a thick skin and to expect early graying hair.


Julia Boccagno is currently an American University junior who majors in Broadcast Journalism and double-minors in International Studies and Italian. As a naturally inquisitive and adventurous individual, Julia aspires to become a foreign correspondent and investigate and report global development and human rights abuses. She firmly believes that news reporting is a vital tool to initiate change and give "voice" to the "voiceless."