Journalism
SOC & LinkTV Team Up for "Latin Pulse"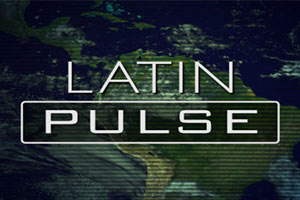 American University's School of Communication has taken the reins in revamping LinkTV's Latin Pulse, a weekly podcast covering news and public affairs from the Latin American perspective.
Professor Rick Rockwell, the executive producer and host of Latin Pulse, said that the show delves into a rich topic area. In addition to Rockwell, his graduate student assistant and associate producer Vanessa Haces Gonzatti, and Jeffrey Madison, the Media Services Manager at SOC, make up the team who produce the show at AU's Media Production Center.  
"It's meant to be a mix of what's going on in Latin America deepened beyond the one-dimensional view that a lot of people have—it's not just about the drug war and violence," Rockwell said.  
Rockwell, the director of the International Media Program whose work as a journalist centered on Latin America, said that the global focus on the region tends to be cyclical, and centered on moments of crisis.  
In the weekly 30-minute show, Rockwell and his team feature in-depth, intensive interviews that can run longer than 10 minutes. Rockwell says the format allows the program to get beyond the superficial, and provide something mainstream media lacks.  
"We're drawing from a rich bounty of experts from Washington," Rockwell said.  
The show leans heavily on politics now, following an intense political season in the Latin American region, and features subjects such as the fight over extracted minerals or indigenous rights.  
"Not much mainstream media are covering the kind of issues we're talking about," Rockwell said. "I'd put what we're doing on Latin America up against anything."  
One of the missions of the project at AU is to highlight experts at the Center for Latin American and Latino Studies, an untapped resource of knowledge and experience housed at American University.  
"One of the things people don't realize about this university, we have forty-plus affiliates [who are specialists on the Latin American region]," Rockwell said. "So if we can point to this great resource, that's what crucial to the AU community."  
Rockwell was a consultant for Latin Pulse while it was a television program. In 2010, LinkTV was looking for a change, and SOC Dean Larry Kirkman facilitated the program's transition to AU. Rockwell took over and developed the program as it is today, available through LinkTV website, and iTunes.  
AU's Bender Library is working to archive Latin Pulse episodes building a searchable database for students and the public. This would serve not just as an academic resource for those looking for expert commentary, Rockwell said, but has greater implications for a global audience.  
"It becomes an oral history project, a snapshot of here and now," Rockwell said.