Technology
American University School of Communication Announces Winners of First Sony EX-1 Film Festival
By Nina Keim
April 22, 2009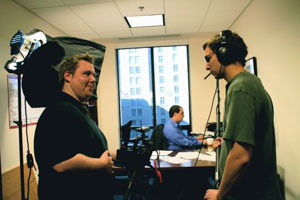 A documentary, a fiction feature, and a short won the first annual EX-1 Student Film Festival, a film competition run by American University's School of Communication (SOC) and sponsored by Sony Electronics.  The competition,  open to anyone  enrolled in an SOC course, required the participants to shoot their entries with a Sony PMW-EX1 high-definition camcorder, was judged by a panel of distinguished  filmmakers, one of which is an SOC alumni. Winners will receive gift cards from Sony and may have samples of their work posted on Sony's website. 
 "This relationship with Sony is a great opportunity for our students to create meaningful films with the latest technology," said Larry Engel, an SOC professor and documentary filmmaker who helped to organize the competition. "I'm looking forward to seeing more great pieces produced by creative SOC students with this new equipment in the future."
The competition's top prize went to Who May Live, a documentary exploring a bird flu pandemic and the public policy issues it raised.  The film was made by Arya Surowidjojo, an Indonesian native and SOC graduate student whose work has appeared on VanityFair.com and the Mhz Network.  
Other winners include Shopping Solo, a feature from Dustin Harrison-Atlas, an SOC graduate student with experience at Discovery Communications, and Cornography, a short from Katie Kassof.
Judges included SOC alumni Michael Cascio, senior vice president of special programs at National Geographic Channel, as well as Amy Bucher and Tom Lucas, independent New York filmmakers.
"Today's students need the right tools to prepare them for the future of video production," said Shari Sentlowitz, education marketing manager at Sony Electronics. "Sony is proud to support American University and its efforts to encourage the creativity and innovation of young creative talents."
The Festival attracted 15 entries in the categories:  Documentary, Fiction, and Short-Form.  In addition to students, SOC faculty Larry Engel and Bill Gentile have used the Sony camcorder for projects shot last summer in Alaska and Afghanistan, respectively.