Journalism
The Smell of Bread, The Power of Memory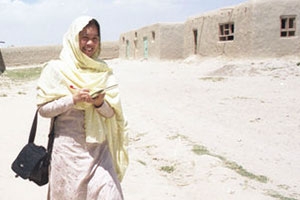 It was not the book Angie Chuang set out to write. Which only makes sense: At the beginning, it wasn't supposed to be a book at all. By the end, she'd be writing in fever dreams and sleep—deprived frenzies, on a much broader canvas. But that was still far in the future.

The year was 2001, in the weeks after 9/11, and Chuang was a newspaper reporter with The Oregonian, in Portland. The United States was soon to go to war in Afghanistan—where Osama bin Laden was thought to be hiding, where the attacks had been planned—and her editor had an assignment for her: "Put a human face on the country we're about to bomb."

There was a small Afghan immigrant community in and around Portland, many with relatives still living in the old country. And Chuang set out to explore and explain them in a series of articles. She figured that would be the end of it. She was a journalist, after all; that's what journalists do.

"You move on to other people, and other families," recalls Chuang, now an Assistant Professor of Journalism at American University's School of Communication. But this time—with the family she would call the Shirzais in her later writings—was different.

"There was something about this family that really stuck with me. I couldn't stop thinking about this family."

The meetings, and the newspaper and magazine stories, continued over the next few years. But she never forgot about that time at a large family dinner, when the thought that changed everything entered her head.

"One of the family members—I was staring at picture of a mud-brick village, thinking nobody was watching—he saw me staring, and came up behind me: 'Maybe you should come with us sometime.'"

There was something about the moment. The suggestion took root. Then it took over.

"I have to go," she told herself. "I have to be there."

So in 2004, she and a photojournalist companion boarded a plane, then another plane, then another. Thirty hours and more than a dozen time zones later, they were in Kabul, Afghanistan's capital, and then—finally—at the family home.

Or, more accurately: at one of the places the family had come to call home. There were so many. She would later describe it this way:

In Pashto [the dominant language in the region] "home" is not a single word, but four. There is "kor," a word that means "house," "watan," which means "country," still another, "mena," that means "birthplace," and "tatobay," a fourth that means "homeland." In a land that had endured invaders, occupations, war, and the displacement of its people, many times over, the idea of home had evolved as elusive, fractured, and dissonant.

That elusive idea gave her the thread of a longer story, spun out in a series of essays. Eventually, it would give her the title of a book.
 
The Four Words for Home (Willow Books) would trace the travails, and occasional triumphs, of the Shirzai family in both their native land and their adopted one. And while the journalist in her was used to short deadlines and was "really daunted" by the idea of writing at book length, the writer—and daughter of immigrants herself—wasn't satisfied.

"I hadn't quite said everything I wanted to say."  

Against journalistic instincts which had kept first-person narratives off her computer screen, she found she'd become a character in her stories, interacting and comparing notes with the various generations of women in the Shirzai household. Occasionally, she'd even compare and contrast the Shirzais' immigrant experience with her own family's journey from Taiwan to America years earlier.  

The essays grew into a book manuscript, and the manuscript went out to agents. In evocative passages, Chuang had managed to convey not just a family portrait, but the sounds of street vendors, the smell of bread baking, the shape of sunlight streaming through the flour dust. But her timing was wrong. By now, Afghanistan had been in the news for years. By now, she was told, potential readers had "Afghanistan fatigue."
"If this was about Egypt or Libya," one agent actually told her, "I'd snatch it up in a minute."

It was another agent, though, who first broached the idea that gave new life to the project: What would Chuang think about doing a drastic revision of the book, and make only half of it about the Shirzais, and half about her own family? It would be a book not just about Afghans and Afghanistan, but about the immigrant experience more broadly.

A "braided narrative," the agent called it: two threads, woven together.

Chuang was game. Not that it was easy. She didn't see herself as "a natural memoirist," she says, and many of her memories had been locked away for decades.

"A lot of the family stuff came to me almost in dreams—I'd wake up in the middle of the night. I wouldn't write that much during the day, and I'd wake up at 3 a.m., and the only thing that would help me to sleep was getting out my laptop and writing what I was thinking about. Often it was a scene from my childhood, something that had been percolating in my brain.

"I wrote lots of it in a sleep-deprived frenzy."

By the time the rewrite was done—with roughly a third of the book set in Afghanistan, a third with the Shirzais in Portland, and a third telling the "ragged edges" of her own family's immigrant story—the agent who had offered the crucial suggestion no longer represented authors. Chuang pressed ahead anyway, without an agent, entering the manuscript in a competition sponsored by Willow Books, an imprint of Aquarius Press based in Massachusetts. And she won: The Four Words for Home was named Willow Books Literature Awards' Prose Grand Prize Winner for 2013. The prize? Willow will be publishing the book in March, 2014.

Delighted at her good fortune, Angie Chuang hopes her "braided narrative"—those different, but entwined stories—will now resonate with an even wider audience.

"As society changes, becomes more global, more multicultural," she explains, "the concept of 'home' becomes more fluid."

Or as she found out in her journeys, "Home was not a place on the map. It was a state of being, of connecting."

For further information about The Four Words for Home, visit www.angiechuang.com. Pre-ordering will be available on the site and through Amazon closer to the date of publication.