Communications
A Week in the Wild Delivers Years of Experience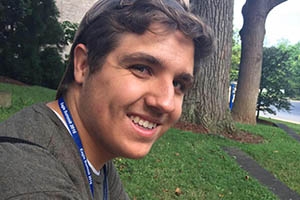 When we arrived at our destination, I got out of the car and took in my surroundings. "Oh man....", I said to myself, "…. just…wow." I spun myself around, similar to that of a camera doing a three-hundred-sixty-degree pan, and was stunned. The brown, dark trees, the green leaves, the light reflecting off the clear water, the tan sand on the thin beaches; everything I saw at the Chesapeake made me want to take a picture, and it was my first ten seconds looking at it.
Participating in Classroom in the Wild was an unforgettable experience. Even though being in the harsh wind and bitter cold was rough, my classmates and I still fought through it to create some amazing work. We went through mile-long nature trails, traveled through a wildlife refuge on a road that cut through the river, and saw the harms that many wild animals face, all while filming during 20-mile-per-hour winds on grey, cloudy days. Our instructors were not only fantastic teachers, but insightful mentors. They gave us life advice on how to budget your time, how to market yourselves, deciding on what your rate should be, how to get a job at a place like National Geographic, and told us to never give up. 
My classmates, and now friends, were also amazing. Each of us provided a different dynamic to the group, which made the experience all the more enjoyable. Playing games like Mafia and Cards Against Humanity was not only fun, but each person's creativity got to shine during our time there. It was incredible to see everyone have a vision and how persistent we became in attempting to make it a reality.
On the final day, when we were making closing comments, I mentioned something I feel is very true. By doing Classroom in the Wild, I felt I got 4 years of experience in a week's time. I learned a lot about myself and from myself, but I also learned plenty more from the people around me. By the end, it was not just about learning a few camera techniques or a few life tips, but the class taught and showed us an experience akin to being an actual filmmaker. It taught us to collaborate, problem-solve, be persistent, and the need to make a difference. In my eyes, that's what makes a filmmaker. In my eyes, it was one of the most valuable things I have ever learned. And I will not forget it.
Michael Rice is currently a freshman pursuing a BA in filmmaking, and will most likely minor in Computer Science. He hopes to use both technical and creative skills to provide new experiences for others.