Communications
Alum Joins Historic National Geographic Everest Expedition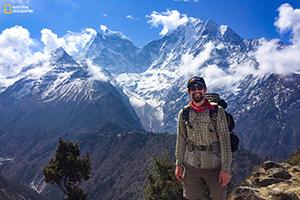 Between the risks of hurricane strength winds, dangerous cold, and catastrophic storms, and seriously thin air, being on Mount Everest, Earth's tallest peak, is dangerous. Whether you make it to the summit or not, it's a herculean task. Spend any time high enough without supplemental oxygen and you are inviting brain damage – there's just not enough air for the human body to function. The area above 26,247 feet (8,430m) is known as the "Death Zone" for a reason.  
When School of Communication (AU SOC) alum Sam Sheline visited Everest this May with National Geographic, he learned how difficult the mountain can be firsthand, even if he did not visit the heights of the Death Zone. "I had to be evacuated out of Basecamp by helicopter because of the flu," he said of his trip where almost the whole crew got sick. "17,500 feet is not an easy place to get over a fever." 
Sam Sheline at the highest point he reached on the expedition—about 19,000 ft.—at Pumori High camp, about 1500 feet above Everest basecamp. Photo courtesy of Sam Sheline/National Geographic.  

Regardless of the struggles of surviving at the mountain's monster altitudes, Sheline calls his two-month experience in Nepal with National Geographic "awe-inspiring." He was selected to join the network on the National Geographic and Rolex Perpetual Planet Extreme Expedition to Mt. Everest setting up the world's highest weather station at 27,650 feet – less than 1,500 feet from the summit. The filmmaker spent nearly six weeks at Everest's Basecamp (17,500 ft/5,380 m) shooting video of the scientists and field producing.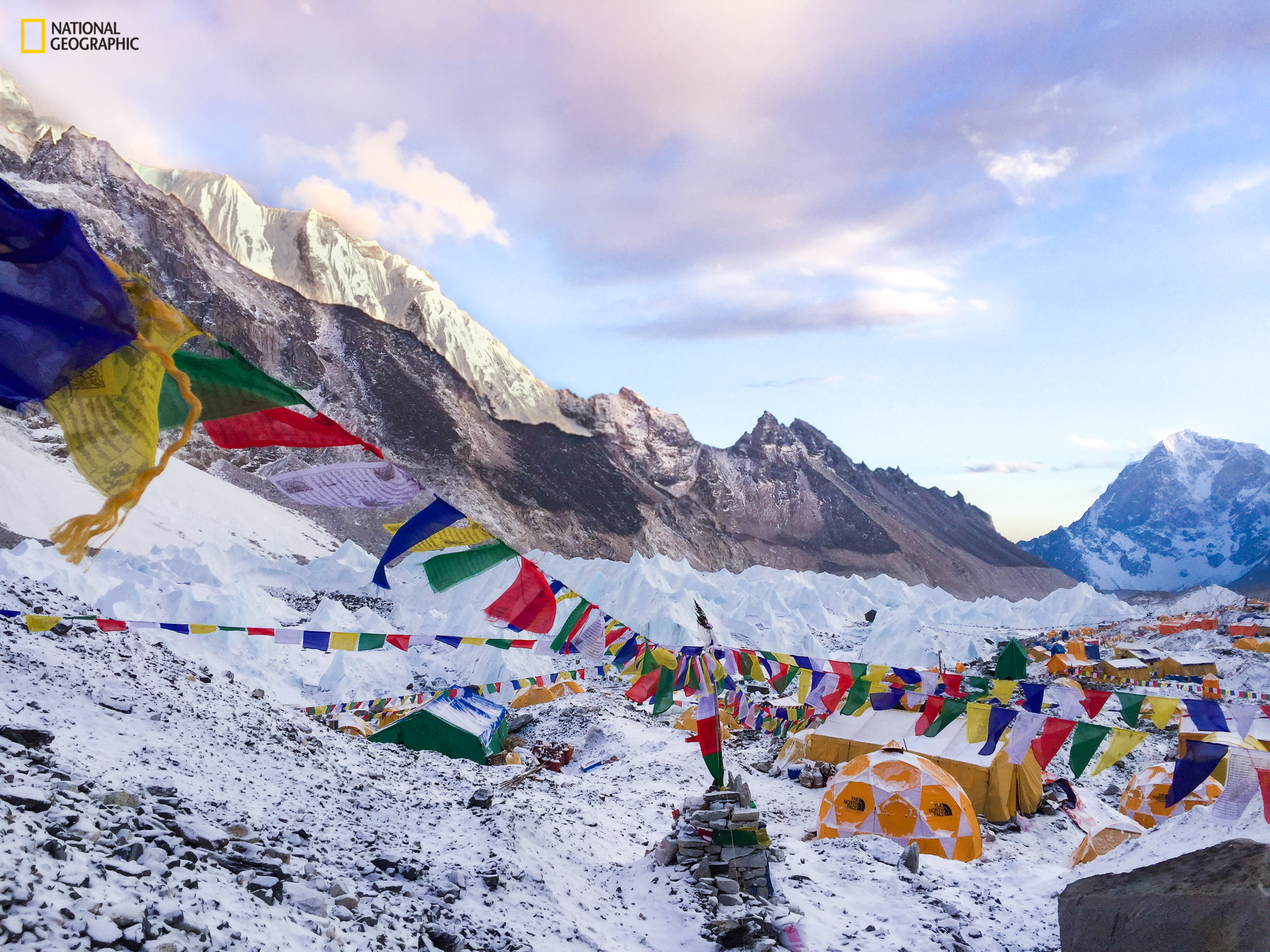 An overview of part of the team's setup at basecamp, looking down the Khumbu glacier. Photo courtesy of Sam Sheline/National Geographic.

The team Sheline was covering set out to better understand climate change at extreme, high-altitude environments. These environments are "warming significantly faster than global averages," Sheline says. The numerous high-altitude weather stations set up by the team will help gather data to shed light on the issue. Sheline is now working with others at National Geographic to create educational videos from what he filmed on the mountain.
Sheline, who graduated from AU in 2017, has been an Associate Producer at National Geographic for over a year. While he was at SOC, Sam worked with the Center for Environmental Filmmaking (CEF) where he did research for publications and helped plan events.  According to him, being an SOC student and working with CEF prepared him well for the kind of work he is doing now by teaching him both video production hard skills and soft skills like teamwork: "Nothing can really prepare you for seeing an avalanche come a little too close for comfort, but SOC prepared me well for the rest of the job."