Communications
Alumna's Thesis Project Exploring Civil Rights, Past and Present, Sees Success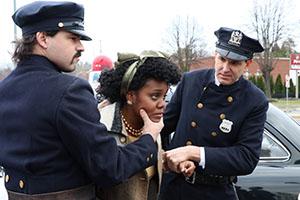 Police discrimination and brutality, problems faced by generations of black Americans, are engaged by Shayla Racquel, a 2016 graduate of American University School of Communication (AU SOC) Film and Electronic Media MFA program, in her thesis project, Riverment. The film will be featured at over ten film festivals.
The film also won awards such as Best Cinematography from the Las Vegas Black Film Festival and Best Student Narrative from the March On Washington Film Festival, which was the grant prize.
Riverment, which was released in 2018, is about paralleled experiences from the Civil Rights Movement and modern day.
Her grandparents grew up in South Carolina during the Civil Right's Movement and were advocates for equal rights. They were very politically active in their community and would tell Racquel stories about their experiences growing up during that time.
When the movement against police brutality began to grow, she called her grandmother, who was the inspiration behind the film.
Her grandmother told her that she fought during the Civil Rights Movement so Racquel wouldn't have to experience the same hatred and discrimination that she faced. The sacrifices and hardships that her grandparents' generation dealt with was the driving factor in the creation of Riverment.
The film shows the similarities between her grandmother's fight during the 50's and the fight against police brutality and racial targeting today. However, Racquel said the hardest part of creating the film was giving an authentic voice to her grandmother. She researched the time and relied on her grandparents' experiences to make it as real as possible.
Her biggest hope is that people understand the need for solidarity between generations, so the next generation isn't fighting the same fight.
"The Civil Rights Movement created the blueprint for how to fight for equal rights, but there is still more to be done. Each movement has their own goals and ways of doing things and even though they are similar, we are fighting a different fight and doing things differently," said Racquel.
Riverment was three years in the making. Racquel said that her hard work, dedication, and patience have been worth it.
"Filmmaking is hard and time-consuming, and it's rarely rewarding if you're not in Hollywood because independent films don't make a lot of money. But, it's affirming to know that people connect to the story and value its message," said Racquel.
She is currently working on writing a feature film, which she will direct herself. She is also the producer of a film series that is being filmed in New York.