Communications
Alumni Take Awards at Cannes Festivals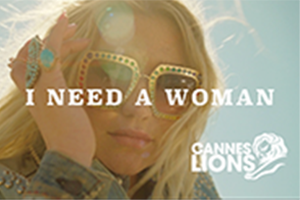 This year, five American University School of Communication (AU SOC) alumni had their projects screened at the Cannes Film Festival and the Cannes International Festival of Creativity, ranging from an immersive virtual reality (VR) film set in a war zone to a major motion picture produced by Spike Lee to an international campaign featuring pop star Kesha.
Lagan Sebert, who received his MA in Journalism and Public Affairs, and Brandon Bloch, who received his MA in Film and Video Production, won a Gold Lion, three Silver Lions and one Bronze Lion at Cannes at the Cannes International Festival of Creativity for a music video featuring Kesha for MGM Resorts International's Universal Love campaign. It focuses on broadening inclusion and celebrating love within the LGBTQ+ community.
The team took home a Gold Lion for Brand Experience and Activation, three Silver Lions in Brand Experience and Activation, Entertainment, and Entertainment Lions for Music. They also won a Bronze Entertainment Lion for Music. Sebert and Bloch founded a production company, Magic Seed, and have worked together on several projects, including the MTV series Ke$ha: My Crazy Beautiful Life.
The movie "BlacKKKlansman," cowritten by Charlie Wachtel, who earned his BA in Film and Media Arts at SOC, and his writing partner, David Rabinowitz, won two awards: Grand Prize of the Jury and Prize of the Ecumenical Jury at the Cannes Film Festival. Based on the true story of an African-American police officer successfully who manages to infiltrate and become the head of a Ku Klux Klan chapter, it is produced by Academy Award nominee Jordan Peele and Academy Award nominee and Emmy winner Spike Lee as well as Jason Blum, Raymond Mansfield, Sean McKittrick, and Shaun Redick. It stars John David Washington, Adam Driver, Corey Hawkins, Laura Harrier, and Topher Grace. It will be released in theaters in the US on August 10.
Another pair of SOC alumni, Emiliano Ruprah and Jean-Paul Polo, screened their VR film "War Tourist," which Ruprah directed and Polo produced. War Tourist is an immersive 360 film shot in and around Mosul during the offensive to retake the city from ISIS. The war documentary and personal critique on the motives behind filming war grew out of Ruprah's graduate capstone at SOC.
The 29-minute film follows a rookie war journalist as he goes deeper and deeper into the "heart of darkness" to understand the conflict at the frontlines. Coming face to face with a violent act forces him to question his understanding of the conflict and propel him to reassess his own role in the conflict.
Learn more about film and journalism at AU SOC.