Communications
American University Public Communication Capstone Award Winners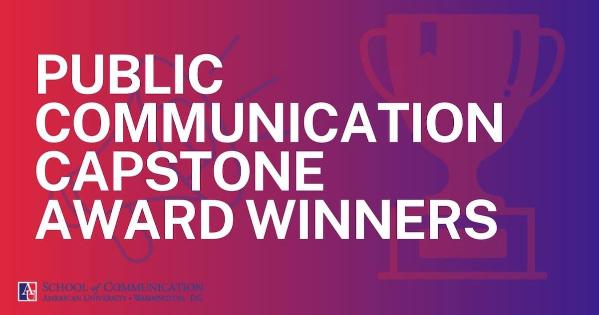 American University (AU) Public Communication division is honoring this year's best capstone, political capstone, and public relations portfolio projects from the School of Communication (SOC) graduating class of 2023. Faculty selected one exceptional project from each of the undergraduate portfolio classes, graduate capstone classes, and political capstone classes. Nominated projects were then judged by professionals in the field of strategic communications to select one outstanding winner from each category. 
This year's judges include communication professionals from Squared Communication, World Resources Institute, U.S. Senate, FGS Global, US News and World Report, Beekeeper, Weber Shandwick, American Gaming Association, and AARP. 
In the graduate capstone and political capstone courses, students conduct research, gain expertise, and develop a long-form paper or project in an area of strategic communication of their choosing. In the bachelor's program, public relations portfolio classes serve as the capstone. In these courses, students have a real-world client and work as part of a team to address a specific communication challenge. As always, SOC's Public Communication students impressed their faculty and the judges with their outstanding work. 
Public Relations Portfolio
Winning Group: Alana Cunningham, McKenna Friedland, Jiaqing Hao, Lauren Morris and Claire Rosenwinkel (Professor Robert Johnson) 
Strategic Plan for Bethel Woods Campground 
Graduate Capstone 
Winner: Jessica Newell (Professor Caty Borum) 
"Marching Through Streets or Typing Behind Screens: Gen Z's Activist Persona and Potential as Described by Them" 
Graduate Political Communication Capstone 
"Moving the White Moderate: A Message to Get White Moderates to Support Black Abolitionists"