Communications
Communication Graduates Celebrate Achievements at Commencement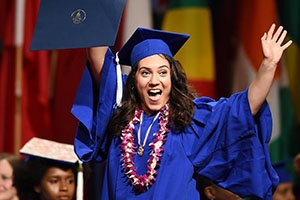 American University School of Communication (AU SOC) graduating students, their families and faculty and staff celebrated personal and shared accomplishments on May 12 at the school's 2018 Commencement. SOC is marking its 25th Anniversary as an independent school at AU this year, and the newly-minted communication alumni join over 12,000 others in a world-wide network of industry professionals, changing and influencing millions through their work. See photos and watch video from SOC Commencement.
Featured speaker Michael Kempner, (SPA/BS '81), the Founder and Chief Executive Officer of MWWPR, one of the nation's largest independent public relations firms, received an honorary Doctor of Humane Letters. Kempner is a nationally recognized authority on reputation and crisis management, public affairs, business to business, consumer marketing and corporate social responsibility. Kempner is working to make the PR industry more inclusive, partnering with SOC on a fellowship program designed to build a pipeline of diverse talent through the design of a hands-on, agency-based learning environment that will encourage more young professionals, particularly people of color, to consider public relations as a career choice. He also serves on the SOC Dean's Advisory Council. Watch Kempner's speech
The two SOC student commencement speakers reminded attendees that what happens in the classroom is just the start of what you can build, and gain, during your time at SOC.
As a recent guest of CNN at the White House Correspondents' Association dinner, a Black on Campus fellow and a Dean's Intern for The Washington Post, Lauren Lumpkin, a graduating senior, receiving her degree in Public Relations and Strategic Communication, spoke about how racially-charged incidents on campus spurred her to become more involved in student media and become a leader on campus inclusion. She will be moving to Baltimore to write for the Baltimore Sun after commencement.
Kofi Gayle-Tendai, the graduate student speaker, is a Washington D.C. native who has always had an interest in entertaining and creative arts, and who initially did not think his career path included college, much less the MFA in Film and Electronic Media he received Saturday.
However, he realized raw talent was not enough to achieve his goals. In addition to honing his skills, "I've gained mentors, collaborators and friends, valuable relationships that will be instrumental in my success in the industry," he said.
After commencement, he will join 19 other students traveling to L.A. as part of SOC's competitive L.A. Intensive program, which takes recent alums with a focus in the field of entertainment including television and film to California to meet alumni and industry professionals through site visits, meetings, panel discussions and social events.
Other students had words of advice, reflection, and inspiration to share.
Matt Cipollone, who received his MFA in Film and Electronic Media, feels that he and his fellow SOC graduates share a duty, as communication experts, to help share the stories of those who cannot tell their own.
Julie Kraft, who received a Master's in Strategic Communication, has a message to share about persistence.
Alyssa Rotunno explains that in journalism, she found a passion to shout about - but also gained the understanding that as a journalist, that's not the role she plays.
Shira Stein is proud to graduate from a school where her professors and peers prize truth as much as she does.