Communications
Knock Down the House: An Interview with Co-Producer Cherry Graziosi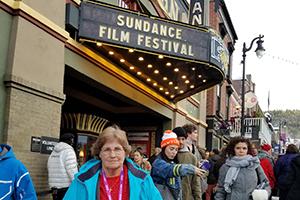 On a rainy night in October, the same night the Washington Nationals would go on to win the World Series, an overflow crowd turned out at American University School of Communication (AU SOC) to hear from some of the creators of Knock Down the House. The premise of the film tells the story of four women who were tired of the status quo in their hometowns, took matters into their own hands, and ran for Congress.
The documentary was screened in SOC's Doyle-Forman Theater on October 30 before a panel discussion featuring documentary subject Amy Vilela, who was a 2018 Democratic primary candidate for Nevada's 4th District; Rachel Lears, director; and Cherry Graziosi, co-producer (SOC/MA '91). The conversation was moderated by Molly O'Rourke, director of AU's MA in Political Communication, and Amy K. Dacey, executive director of the Sine Institute of Policy & Politics. The film is available now on Netflix.
Knock Down the House documents the stories of Alexandria Ocasio-Cortez, Amy Vilela, Cori Bush, and Paula Jean Swearengin as they each ran for political office in their respective districts. All new to the political scene, none of the women had previous experience in politics, and lacked the resources of what would be deemed a "successful" campaign. The result was a monumental movement within the political landscape, and a spectacular story.
Graziosi earned her MA in Journalism and Public Policy at SOC and began her career working in radio broadcasting at a station in Frederick, MD. The award-winning journalist was a reporter/anchor at WFMD from 1985-1988 and also did freelance reporting for CBS radio covering numerous national headline stories. Her first big story was then-physician and current Secretary of Housing and Urban Development Ben Carson's successful separation of West German conjoined twins. Graziosi eventually left journalism full-time, but sought to continue telling real stories through producing documentaries.
I interviewed her to find out more about the experience of making Knock Down the House. 
What in your career led you to filmmaking and documentaries?
Journalism is my first love, and I was always interested in documentaries. I couldn't do the editing, and my interest is in fundraising. So I went to kickstarter, and found two topics that interested me. One was about the #MeToo movement, and the other was Rachel's [Lear, director of Knock Down the House]. I was really intrigued in her documentary; we started talking in March 2018, and it took some time, we talked numerous times. I had a lot of questions for her.
I jumped on the bandwagon. In June 2018, things changed. Quite frankly, I didn't know it was the primaries night. Someone called me to tell me to turn on the TV. They said—well, she wasn't AOC at the time—that Alexandria had won. I think I was halfway going to sleep and I turned on CNN and I was dumbfounded. And it wasn't supposed to happen and it changed everything.
What did your role look like on this film?
Rachel needed money to get this thing off the ground. With my donation, Rachel could [do that]. She would send me uncut versions throughout the making of the movie, and I would give her my opinions, although Rachel and her husband Robin, and another producer had total creative control. AOC won, and then Hollywood starts calling, and that's exactly when it started taking off. Once she won, our documentary started getting a lot of press.
Did you know that any of the candidates would be successful?
We were not expecting anyone to win. Not because we didn't think that they could -- all of these women are certainly capable. The premise of the documentary was that it's difficult to win when you're running against incumbents and [have] limited resources to get the job done. Of all four, I don't think Rachel thought AOC was going to do it over the other three...Yes, she did beat the fourth most powerful man in the democratic party. CNN called it the night that she won a 'political earthquake.'
How do you feel about the documentary's relevance and timeliness?
Female politicians often aren't respected if they are aggressive. AOC seems to have respect for people. She admits that she's way far to the left, walks the walk, and she talks the talk. 
At the end of the day, we're going to start to see women become more prominent. One thing I can say is, we [haven't had] a woman president yet, it's not acceptable.
What can people learn from the documentary?
There's an overarching theme that many women would have to fail in order for one to succeed. Here's my takeaway from it—stop complaining about politics, and step up to the plate like AOC, and Paula, and Amy, and Cori Bush did. Step up to the plate, put your money where your mouth is.