Alumni
Mentor Program 'Enormously Valuable,' Says Alum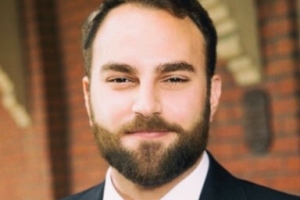 Meet Andrew Gagliano: He currently works for Maier-Warner Public Relations in Rockville, MD, a public relations and marketing firm with high-level clients such as JBG Realty, Marriott and Federal Realty. He graduated from AU in 2016 with a Master's in Strategic Communication.
During his time at AU, he took part in SOC's alumni mentor program. The program is meant to "bridge the gap between the classroom and professional world." Graduate students and undergraduate seniors are paired with alumni who are accomplished in their respective fields. The goal of the program is to help students navigate their career paths.
"[The program] allows alumni…to be a third-party resource that understands what students are going through, but also understands firmly the real world and know how to help guide students through their [professional] journey," says Gagliano.
Gagliano's mentor during his time in the program was Nutan Chada, the executive producer at the Defense Logistics Agency for more than 25 years. Gagliano says that Chada helped him not only with his resume, portfolio and interview skills, but also helped him with exploring his possibilities in life after graduation.
"She helped me zoom out and look at the big picture of career goals over the long term…that is some of the most valuable stuff…someone who can just listen and provide real world advice," he says.
Gagliano calls the SOC alumni mentor program an "unsung hero" of AU SOC. He says that when he got the email calling for mentors for the upcoming school year, he didn't hesitate to respond.
"My mentor was so enormously valuable for me, and I got so much value out of that relationship that I knew I wanted to be a part of that. I knew I wanted to find a way to give back."
Gagliano urges all students, whether they know what they want to do out of college, know what they want to do but don't know how to get there, or aren't quite sure what they want to do out of college, to sign up for the alumni mentor program.