Journalism
American University Journalism Award Winners Announced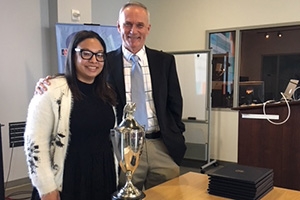 American University School of Communication (AU SOC) recognized its top journalism students last night, inducting nine new members into the Kappa Tau Alpha (KTA), the National Honors Society, and announcing a new suite of awards that recognize and reward quality news projects by undergraduate journalism majors, as well as presenting the Rodger Streitmatter Journalism Award for Excellence.
The new Journalism Awards Program is possible due to the creativity and generosity of a committed American University alumnus, who prefers to remain anonymous, who developed the honors "to encourage students to commit their talent and energy to the field of journalism." 
Six undergraduate award winners receive a $300 prize. Journalism Division Director Amy Eisman praised the alumnus and welcomes the focus on budding journalists.
"This highly engaged donor proposed the Journalism Awards Program at a time when accurate, deeply reported and clearly presented news and information is more important than ever, regardless of platform," she said.
The Streitmatter award is named for Rodger Streitmatter, SOC alumnus, former newspaper reporter, cultural historian and a popular professor at AU. It was created by his husband, Thomas B. Grooms, and includes $2,000 prize, a certificate, and the winner's name engraved on a trophy that will be kept at SOC.
2018 Journalism Award Winners
Best News Story (Reporting) - Ashlyn Peter
Best News Story (Advanced Reporting) - Andrew Eversden
Best Audio Story - Bryan White
Best Broadcast Video Story - Jasmine Richey
Best Multimedia Story - Kristopher Schneider and Sloane Ackerman
Best Investigative Plan - Courtney Rozen
2018 Streitmatter Award Winner
2018 AU KTA Inductees 
Rachel Falek
Ivy Kaplan
Emily Russell
Emily Martin
Courtney Rozen
Lara Jakiel
Deanna Mudry
Zoe Morgan
Ambar Pardilla
Learn more about the BA in Journalism at SOC.