Communications
New Communication Faculty Diversify and Strengthen Programs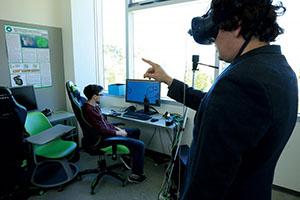 Reflecting American University School of Communication's reputation as a comprehensive institution for media research, teaching, and creation, four leading innovators in media research and practice will join its faculty this fall. Each scholar brings a unique set of skills, experiences, and backgrounds that will help diversify SOC programs and give students new perspectives and ideas.
Krzysztof Pietroszek, the new director of the AU SOC Game Design MA program, is an augmented reality (AR) and virtual reality (VR) expert with a wide-ranging background in film directing, game design and computer science. He is interested in both designing and evaluating AR, VR and mixed reality (MR) technologies, which he believes can help people with disabilities realize their potential in game making. Pietroszek has also researched many aspects of game production. His projects include topics such as real time conversion of speech to expressive face animation in VR using deep neural networks, turning audience brainwaves into an audiovisual feast in VR, and adopting a music score's interpretation to audience's mood.
Saif Shahin joins SOC as an assistant professor in communication studies. He uses algorithmic/computational methods such as machine learning, natural language processing, and social network analysis to mine and analyze large volumes of data. He also studies emerging media technologies, especially big data, to determine how they produce racial, religious, notational and ideological identities. His journalism experience includes writing analyses and commentary on U.S. and international politics for a number of publications. He was an editor at ReportingTexas.com, directing student journalists. He also was the news editor at Mint and senior assistant editor at Mail Today, both in New Delhi. He also worked at the Qatar Tribune in Doha and at the Oman Tribune in Muscat.
Vladimer Mkervalishvili, Ph.D., is a Fulbright visiting scholar and is an expert in journalism and communication. He has served as a communication and PR expert to various NGOs and international organizations, including UNDP, USAID, IFES, and CoE. Vladimer built skills in strategic communication and outreach and focuses his efforts on communicating and raising awareness for human rights, gender and equality issues. In 2013, Vladimer initiated the establishment of an NGO, "Journalists Network for Gender Equality", the first coalition of journalists in Georgia focused on promoting gender and equality issues.
Yo Noguchi is a visiting scholar from Tokyo, Japan and worked for the Asahi Shimbun, one of the most popular daily newspapers in Japan, as a news reporter for about 20 years. Noguchi has conducted many investigative news reports on issues such as politicians' financial problems -- including the Prime Minister -- issues surrounding nuclear power plants, and wasting tax revenues. With those experiences, Noguchi realized the significance of investigative reporting and wrote two publications about the government wasting tax revenues and the hidden relationship between politicians and nuclear power companies.
Caty Borum Chattoo has accepted a position as a tenure-track Assistant Professor at SOC. Professor Chattoo is an award-winning documentary producer, scholar, professor and strategist working at the intersection of social change, documentary and entertainment storytelling. She also directs the Center for Media & Social Impact. She is currently writing two peer-reviewed books, including "The Blackfish Effect and Other Stories: Documentaries and Social Change in the Information Age". Professor Chattoo's peer-reviewed research is featured in top journals in communication and the humanities, including Journal of Communication, Journalism, Journal of Broadcasting and Electronic Media, Mass Communication and Society, and Journalism and Mass Communication Quarterly.