On Campus
Class on the '60's Includes Baby Boomer
Film Festival
By Adell Crowe
August 26, 2010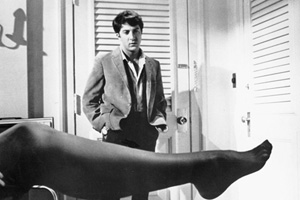 Today's college students are children of Baby Boomers: A free-spirited generation that forced the country -- and their parents -- to accept radical ideas about war, minorities, women and hair.
Their influence has been so transformative that public communication professor Lenny Steinhorn built a course around it. Talking About That 60's Generation: Understanding Baby Boomers and How They Have Shaped Us immerses students in the era to study how Boomer's broke with conformity and created a new set of values and social norms based on inclusion and self expression. In addition to reading a stack (nine) books, students will be expected to attend a "Baby-Boomer Film Festival" at 7 p.m. most Wednesdays this fall in the Wechsler Theater that will feature iconic movies made in or about the '60s.
The series, which is sponsored in part by DeCarlo's, an Italian restaurant located in Spring Valley, is open to the AU community, including local residents. The films Steinhorn has selected each explore a different cultural touchstone of the Boomer experience, and he will lead a discussion after each screening. He hopes that the mix of students, faculty and neighbors will lead to some interesting dialogue. 
Upcoming Films:

September 15:

Where the Boys Are
(1960)
With Connie Francis singing the title song, most people think of this film as a paean to Spring Break and its beaches, bikinis, and motel parties. It is all those things, but it is also one of the first movies to explore the changing sexual attitudes of youth as well as issues related to sexual assault.
September 22:

The Graduate
(1967)
Breaking away from convention and conformity was a major theme of Sixties youth, and no character symbolizes it better than a very young Dustin Hoffman, who rejects the career path ("plastics") mapped by his parents and runs away to find his freedom. The question, of course, is what he was running toward.
September 29:

Guess Who's Coming to Dinner
(1967)
This groundbreaking film about interracial marriage was so controversial that the producer initially tried to hide the storyline from his studio. It premiered only months after the Supreme Court struck down state laws against intermarriage – until then, 17 states prohibited it. Sidney Poitier plays an accomplished, idealistic doctor whose future in-laws reject him for only one reason: race.
October 6:

Alice's Restaurant
(1971)
Arlo Guthrie stars in this time capsule of the late '60s that shows how the counter-culture struggled with the all-consuming Vietnam War. There are some great period scenes in this film, particularly at the Army's induction center.
October 13:

The War at Home
(1979)
Live through the emergence of 1960s college anti-war sentiment as this outstanding documentary shows how a previously apathetic University of Wisconsin campus became increasingly militant against the Vietnam War. Some say that the Wisconsin experience symbolizes the boomer generation's homefront experience with the Vietnam War.
October 20:

Easy Rider
(1969)
Two men on motorcycles encounter the tensions of the times: intolerance, hippies, communal living, small-mindedness and drugs. It is a "touchstone" for Boomers who embraced the counter-culture and the open road – as well as those who wanted to.
October 27:

Coming Home
(1978)
How the Vietnam War reverberated back home is the subject of this very poignant film. Veterans and their families deal with the pain and distortion created by the war. In many ways it shows us how we were all prisoners of that war.
November 3:

The Big Chill
(1983)
This movie is seen as the Boomers' goodbye to the '60's and the idealism of their youth. But it is also a complicated drama about how much of the '60s one should hold on to – and that growing up is not the same as selling out.

November 10:

Alice Doesn't Live Here Any More
(1974)
What made this film unique at the time is that it depicted love and relationships through a woman's perspective. This is a film inspired by the growing feminist movement. And it portrays just how hard it is for a woman to pursue her dreams.

November 17:

Network
(1976)
Boomers were the first mass-media generation and this self-mocking tale shows the outlandish and at times ridiculous extremes of our media culture. It also added a new phrase to Boomer lingo: "I'm as mad as hell, and I'm not going to take this anymore."