Behind the Scenes: Film and Media Arts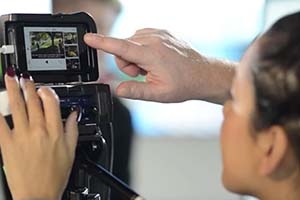 We've put some School of Communication Film and Media Arts faculty in front of the camera for a change to give us a behind the scenes look at what they are doing in a few of their courses.  
Kylos Brannon shares some tips on turning your smart phone into a video camera, Leena Jayaswal explains how working in a dark room can improve your digital photography, and Sarah Menke Fish tells us about how she has formed partnerships in D.C. and internationally to expand the opportunities available to her students.
The How-to of Smartphone Filmmaking 
American University film professor Kylos Brannon gives an introduction to some of the equipment and apps out there that make smart phones more robust video cameras and practical tips and tricks to shooting better footage.
View full video here
Production and Partnerships at AU 
This hands-on course allows students the opportunity to pitch their original short tv series concepts, to be aired on NBC4-Washington. After completing her TV Studio Production course, professor Sarah Menke-Fish wants students to leave with an understanding of the production process and industry experience.
View full video here
From Still Photography to Digital Media 
Associate professor Leena Jayaswal says still photography can serve as a base for students to push on into digital video production. By learning proper techniques for capturing a photograph on film, students can be more creative and more efficient once they move on to other mediums.
View full video here