Communications
Teaming Up with CAVA to Create PR Campaigns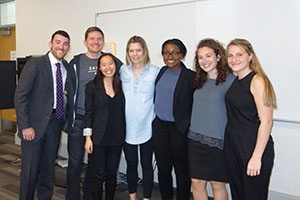 Students in Professor Pallavi Kumar's Public Relations Portfolio class were tasked with an exciting challenge this year, teaming up with CAVA, a fast casual Mediterranean restaurant, to develop a national and regional PR campaign. Their task was to focus on highlighting CAVA as the most innovative company in food while emphasizing each store's unique local story.
The three founders and childhood best friends, Ike Grigoropoulos, Chef Dimitri Moshovitis, and Ted Xenohristos, created CAVA to celebrate their families' traditional Greek and Mediterranean cooking and part of their mission is to spread the ideas of healthy eating. CAVA partners with non-profit organizations to buy locally grown produce and has developed initiatives to help champion healthy living and urban gardening skills.
The students were broken up into groups and each group was assigned to create a campaign for one of four cities: Austin, Boston, Charlotte and Los Angeles. The winning team was Violet Crown PR, which included students Aaliyah Lambert, Katie McCormick, Dan Gottlieb, Rosalie Black, and Olivia Colavito. Violet Crown PR was focused on Austin and they created many potential strategies tying the brand to the locale, such as Chips On The Table, an initiative that creates a paid employee day of service, showcasing the brand's narrative around community caring. Another idea, Chickpea Chase, is a game-like event that incorporates partnerships with local influencers, artisans and farmers to showcase CAVA's innovation through an app. Bowls Beyond Borders is an initiative that celebrates diversity and supports immigrants and refugees. 
The students presented their campaigns to Meg Schiffman, CAVA Director of Marketing and Strategy and Ben Famous, CAVA Head of Strategic Communications and Brand Marketing, who was impressed with the class. 
"From start to finish, this was an excellent experience that produced top notch results. In fact, we were so impressed by several of (the) recommendations that we will plan to execute on them in the coming months. This work is a true reflection of the passion and dedication that Professor Kumar brings to this program, she is truly helping to groom the next generation of communication and public relation professionals that will show up day one ready to execute, no matter the scope or scale of the client." said Famous.
Schiffman added, "It was incredibly inspiring to witness the passion, focus and dedication from Professor Kumar's PR Portfolio class throughout the entire project. We were very impressed by their strategic thinking, presentation skills and ability to craft winning ideas - many of which we felt easily could have come from a professional PR agency."

Learn more about the Public Relations and Strategic Communication Program.