Alumni
Filmmaker Is a Voice for Amphibians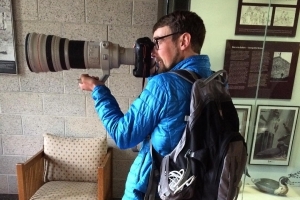 Sam Sheline is an environmental filmmaker and visual storyteller living in Washington, DC, who believes in the power of film and visual media to create positive change in the world, and to provide a voice for the voiceless animals, plants, and ecosystems that need our help.
Sheline has produced, directed, shot, and edited award-winning documentaries on a variety of environmental topics. His films have aired on PBS and various cable channels, and screened at the Environmental Film Festival in the Nation's Capital, the American Conservation Film Festival, SXSW Eco, and other film festivals and events. He received an MFA in Film and Electronic Media from American University, where he was a Center for Environmental Filmmaking scholar.
He is excited to be teaching at George Washington University's Documentary Center this Spring. We caught up with Sheline on the eve of the premiere of his latest documentary at the DC Environmental Film Festival in March.

Q: Why did you choose to attend American University (AU)?
SS: I chose to attend AU largely because of the Center for Environmental Filmmaking and the work of Professor Chris Palmer. I identified him as someone I'd love to work with before I even decided to apply, and then through speaking with him and learning more about SOC and the Center, it became the only place I wanted to go, and ultimately the only school I applied to.
Q: What did you take away from your experience as a student in the AU School of Communication?
SS: I took a lot from my experience at SOC. I made connections with amazing fellow students who are still close friends and professors who I keep in touch with on a weekly basis. I feel like I'm part of a big family of SOC alum and faculty, and that's extremely valuable, professionally and personally.
Q: What is the most important skill that you learned during your time at AU?
SS: Probably the most important skill that I learned was finding the balance between being a team player and having my voice heard. Filmmaking is incredibly collaborative, but in certain avenues it can also be a singular creative expression. I love having control over my films, but learning to let go of some of that control and trust others to help me-and often do it better-was a pretty profound experience.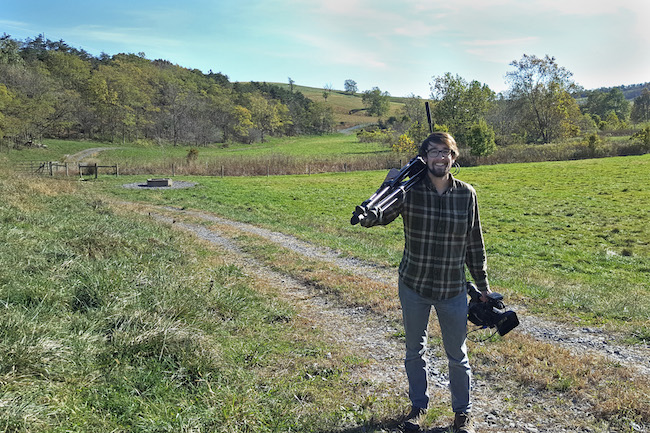 Sam Sheline finishes a film shoot on a farm near Swoope, VA.
Q: In addition to working, you are currently teaching at George Washington University. How did you decide to teach?
SS: I got my MFA because I knew that at some point I wanted to teach. I had planned to go straight into a production role once I finished the [MFA] program, but a couple teaching opportunities came up, and I jumped at them. I was also able to teach during the program, both within and beyond the prescribed curriculum. Teaching is incredibly fulfilling, especially when it's on a subject you're passionate about. Currently I'm teaching part-time at George Washington University's Documentary Center and freelancing.
Q: Talk about your thesis project and film, Harbinger - Amphibian Extinction in Panama and how you decided on doing this topic.
SS: I decided to create Harbinger because I've been a big biology nerd and environmentalist since I was a kid.
This story of amphibian extinctions was one I'd been aware of, but hadn't seen much coverage of, especially after an initial wave of concern in the early 2000s.
A bit of research led me to the fact that this was still an ongoing problem, and one of the many frontlines in the species extinction crisis. I knew I wanted to tell a story about extinctions for my thesis because I think it's an incredibly pressing issue that doesn't get the attention it deserves. The Earth is losing entire evolutionary lineages at an alarming rate and the world barely notices. These species can't speak up for themselves.
It was also a great opportunity to go back to Central America, which is probably my favorite part of the world. Once I decided on the topic it was a matter of making it happen. I got some great advice from a fellow environmental filmmaker who basically said, "You're never going to feel 100% ready for a project like this. You should just go and figure it out."
So, I cobbled together a few grants, a small Kickstarter, and went. I'm so grateful to my friends and family who contributed to my Kickstarter, to the Center for Environmental Filmmaking and the School of Communication for helping facilitate grants and other funding opportunities, and to the professors who taught me how to shoot and tell a story well enough that I actually got some decent footage while I was down there.