Television & Film
Students' Films Featured in Television Special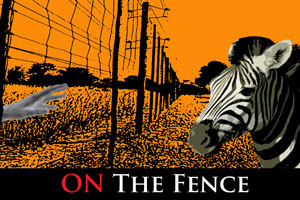 SOC's Center for Environmental Filmmaking and LinkTV have partnered to showcase six SOC students' films for a new Earth Focus special, "Environmental Filmmaking: The Rising Stars."
Earth Focus is LinkTV's environmental news magazine, featuring films and shows that cover key issues affecting the planet. Professor Chris Palmer, Director of the Center for Environmental Filmmaking, said that the partnership, which has been in the works for several years, gives students an opportunity to showcase their work on a national stage.
"This is a reflection of the high caliber of students that are attracted to SOC and the Center," Palmer said. "It is really a great compliment to the students, and in turn, a compliment to the school." "It's very hard nowadays to get films and shows seen because there's so much competition," Palmer said. "So to give some of our students the opportunity to be seen on a network by millions of people is very important."
Palmer and LinkTV executive producer Raisa Scriabine went through dozens of student submissions and picked the six which best combined high entertainment and high educational value.
"We had lots of students coming in with great films," Palmer said. "But what sets these students apart is that these films are highly entertaining, they have an important message, and at the same time the films are not didactic or lecturing in tone."
Profiled films in the Earth Focus Special include:
- The Bay is Your Oyster by Rebecca Howland, which looks at efforts to promote oyster growth on the Chesapeake Bay
- Working with Fire by Dustin Harrison-Atlas and Danny Ledonne, which plunges audiences inside a controlled burn at Nokuse Plantation in Florida
- An excerpt from On the Fence by Brian Kelley about the life of a former hunter in Botswana who is bringing new life to dead wood through art
- America's Energy Future by Yi Chen, which examines the potential for renewable energy development in the United States
- The Struggle for Mt. Nimba by Kari Barber, which shows the plight of an isolated group of chimps in Guinea and the efforts to enable them to survive
The films will be broadcast nationally on Friday, January 28 at 9:30pm EST (6:30pm Pacific), and streamed live on the web on www.linktv.org/earthfocus and YouTube.
"LinkTV and SOC are very excited about this project," Palmer said. "We're definitely going to do it again next year, and we're beginning to now explore other possibilities, which are only going to lead to more opportunities for our students."