Communications
Celebrating the Impact of Professor Richard Stack
The Intersection of PR and Justice

While Richard Stack began teaching at American University School of Communication (AU SOC) more than 30 years ago in 1984, he admits he's had a "circuitous career."
An interest in criminal justice reform led him to pursue a law degree and become a public defender. During that time, Stack noticed a missing component in many trials: a failure to strategically communicate a defendant's message to the court of public opinion. What interested him most about public relations was how different constituencies engaged and understood content.
Stack then became an independent PR and public service consultant and later worked at a PR firm. In this role he advised law offices on communication strategies to influence the increasingly important court of public opinion.
Stack explained that in some cases it doesn't matter if the defendant is found guilty or not; if the court of public opinion has turned against them, their life is ruined either way.
"Clients with great resources could afford PR council and lawyers," said Stack.
Stack decided he wanted to increase training and support for all defendants. So, he combined his background as a public defender with his PR experience and donated his time and effort to pro bono media relations consulting and working toward death penalty abolishment.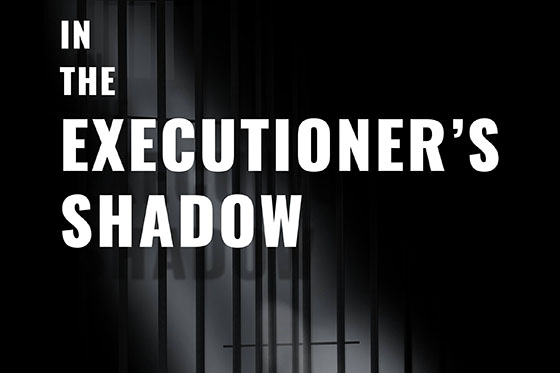 In the Executioner's Shadow is a film co-produced by Stack and fellow SOC professor Maggie Burnette Stogner that challenges perceptions about the death penalty.

Stack has also written books aimed at PR professionals and journalists amplifying the stories of death row inmates and prisoners who had been executed and were likely innocent, according to Stack.
"The goal is to increase objective coverage," said Stack. "Death row inmates don't have a strong voice. So, I became their voice."
Joining the School of Communication

Stack said that in the 1980's, he was bitten by "the teaching bug." During the course of his teaching career Stack has worked with thousands of students, many of whom remember him fondly.
Stack's advice to others is, "Find your own niche and define your brand. Mine was the intersection between courts and media. Looking into how the media leverages and influences the court of public opinion."
"I first met Professor Stack when I took his PR Case Studies class in 1999," said Gillian Parrish, SOC/BA '01. "What I liked the most about his class was that in each lesson, he planted a seed in our minds about how public relations could be used for a higher purpose that – while it might include smart product promotion or flashy events or brand building – could also affect positive social change. That really stuck with me and helped to shape, in my mind, what a career in PR could look like."
Parrish now works as president of Parrish Public Relations, LLC, through which she provides customized communications solutions to enhance organizations' reach, impact, and value.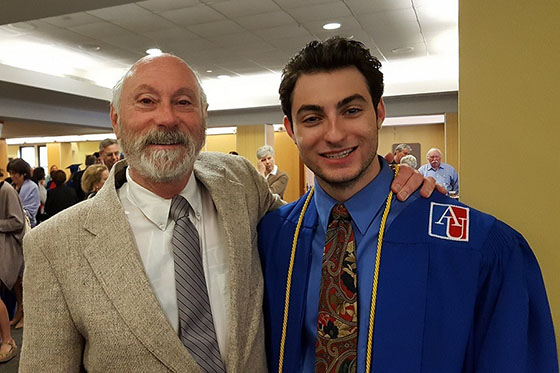 Professor Stack(left) with his former student Kelly Schmidt.
"Rick has a unique gift for blending the academic lessons and showing students how they apply in everyday life," said Ryan Honick, SOC/MA '10. Honick currently serves in the Service Desk Operations Division within the Office of Information Management Systems with the United States Patent and Trademark Office and is the founder of Wild Pitch Media.
"He also takes the time to get to know his students; their passions, their interests, and what drives them," said Honick. "Rick wants all his students to succeed and goes the extra mile to really connect with them and take an interest in their lives."
Diagnosed with cerebral palsy at birth, Honick is an advocate for members of the disability community. Communication through education and an ongoing dialogue are at the center of his approach to combat the stigma and stereotypes associated with being disabled.
"Rick was able to show through his work and passion, how these practices made him a more effective communicator, and advocate for his cause," said Honick. "Being able to see and hear firsthand how communication played a central role reinforced my personal desire to be become a skilled public relations professional."
Importance of Mentorship

Professor Stack pushed me to pursue my passion. He was exceptional at identifying students' gifts," said Jennifer Collins, SOC/BA '94. Collins is the president and CEO of JDC Events, an event design company that empowers brands to deliver impactful messages through creative and experiential events. She is also the international best-selling author of the newly-released Events Spark Change: A Guide to Designing Powerful and Engaging Events.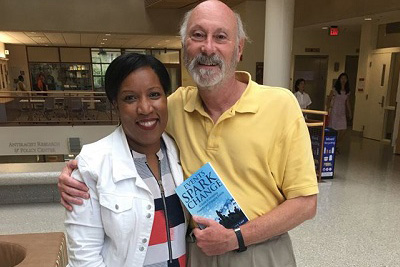 Jennifer Collins presents Professor Stack a copy of her newly-released book.
"He was the inspiration in helping me to get the book written as he regularly encouraged me over the years that I had great expertise to share and that I should compile it in a book," said Collins. "Because of this, he was also one of the individuals I dedicated the book to."
Stack has not only encouraged his students' academic and professional development, but also has served as a mentor and friend.
"He was always so thoughtful and giving of his time and encouragement," said Collins. "He never told you what to do, rather offered different perspectives for consideration. Professor Stack mastered the perfect balance of a gentle nudge and push forward and then would continue to encourage you in it and give you opportunities to use it to benefit others."
Kelly Schmidt, SOC/BA '16, highlighted Stack's commitment to mentoring his students during what can be a tumultuous time of many young people's' lives.
That transition from college into true adulthood can certainly be a little rocky, and it makes you realize just how valuable your mentors are," said Schmidt. "Professor Stack was a mentor and friend at a steadying force for me when I was at AU. He has continued to be so, and his mentorship and friendship is something I will cherish for a long time to come."
Following his degree from AU Schmidt began law school at Boston University. He will graduate in May.
What's Next for Richard Stack?

Stack is retiring from AU, but he plans to spend his retirement dedicated to the same passions he pursued during career. He will continue promoting his film In the Executioner's Shadow, which Professor Stack produced with Professor Maggie Burnette Stogner, the executive director of the AU Center for Environmental Filmmaking.
The film challenges perceptions about the death penalty by featuring three powerful stories including testimony from a former state executioner who came within days of executing an innocent man; a victim of the Boston Marathon bombing who is struggling to define the meaning of justice; and the parents of a murder victim who have chosen to fight against the death penalty and spare the life of their daughter's killer.
He will also continue helping people through personal losses, grief therapy, counseling and comforting mourners as a volunteer at WENDT. 
A retirement reception will be held at American University on April 30 to celebrate Stack's impact at the School of Communication.