Communications
Changemaker Conversations with Alumni Aim to Build Bridges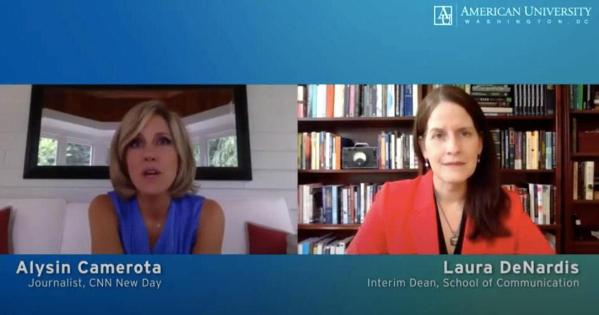 Changemaker Conversations, a new video series from American University School of Communication (AU SOC), creates a bridge SOC and the world and highlights the achievements of key alumni, faculty and program leaders. In Part I of the sesries, through conversations with SOC Dean Laura DeNardis, eminent alumni connect the dots between their time at AU, their early successes, and their current positions. Produced by SOC Video Production Coordinator Bria Granville, the series features alumni sharing candid details about their careers, exploring challenges that they have faced, and give advice to current students.
Oddly, the pandemic helped make this project possible. The shutdown has opened up the schedules of usually very busy people who, while still highly productive, are juggling frewer travel plans and in-person commitments. Viewers can look forward to hearing from a variety of perspectives from leaders in the journalism, film, and public relations industries, including Alisyn Camerota, anchor of CNN's New Day; Barry Josephson, television and film producer; and Michael Kempner, founder and CEO of MWWPR. In addition to learning about the how the alumni used internships, a mutual SOC connection, or a club or organization to move their careers forward, students will have the opportunity to get an inside look at being a communications professional in the middle of a pandemic.
"We are incredibly proud of our distinguished alumni and grateful for their generosity in always taking the time to support and speak to students," says DeNardis.
Josephson sums up why he stays involved, "The idea that you could go to a school, where you're not sure, or you change your mind mid-stream, and that there is a university there to support you in that discovery, in that learning, in that growth, is a reason why I like to stay connected to the school. And for those interested in communications, or entertainment, I do want to give back."
Part II of the series focuses on how Centers at SOC provide professional scaffolding and experiential opportunities for students through conversations between Center directors and alumni. The first video will feature Maggie Stogner, SOC professor and director of the school's Center for Environmental Filmmaking moderating a panel of SOC alumni who have found success in environmental media.
Granville is excited about the possibilities for the series. "I think it's really critical to have people from all different places, different levels of their career, different racial and ethnic backgrounds so that we have equal representation that reflects the population we have at SOC," she stressed.