Internships
Jasinski's Internship at USA TODAY, Full of Color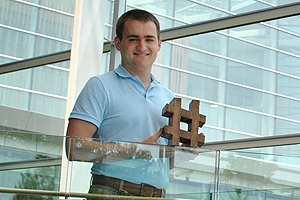 Below is a first person account from Dean's Intern Chris Jasinski on his internship at USA TODAY.
When you hear USA TODAY, what do you think of? I am going to guess the first picture in your head will be of a newspaper with a blue square logo at the corner. For history buffs, you may even remember USA TODAY as the first color-print newspaper.
You may associate USA TODAY as a part of a childhood memory, waking up to your dad sipping a coffee at the kitchen table while reading our weekend edition before snuggling onto the couch to watch their Saturday morning cartoons. Digital users may think of the interactive iPad app that delivers their breaking news and entertaining content throughout the day.
As an intern, my thoughts are much different. I think of vibrant offices with lively experts. I think of clacking heels on the marble floors. I think of my mentor-like boss who is always the best-dressed person in the building. I think of my IBM computer booting up to my social media power-points. I think of the grandeur of the staircases. I think of a café serving much better food than my college's cafeteria- thankfully! I think of a work environment that is never gray—and that is exactly what I wanted from my summer internship.
As the Social Media Marketing intern, my normal day consists of department meetings, discussing the past, present, and future of the brand; presentations to various Gannett properties; and lunch meetings with department heads. USA TODAY gives interns an all access pass to every member of the Gannett umbrella, an invaluable part of the experience.
One of the greatest challenges of my summer was competing with the style of my boss, Mark W. Smith. He is a self-proclaimed "recovering tech columnist" from the Detroit Free Press. His pattern combinations and overall swag are nothing to be reckoned with.
Outside of the office, interns often gather for trips to the Newseum, National's stadium, concerts, Jazz in the Sculpture Garden, and of course fireworks on the mall. I've made friends with interns from across the nation that have now become professional contacts and friends.
I thoroughly enjoyed my time as a member of the USA TODAY team. The brand showed me a colorful world- one that is never gray.
The Dean's Internship program pairs SOC's top students with selected partner organizations for semester-long, for-credit internships. The competitive program provides extraordinary opportunities for undergraduates and graduates to have their work featured with named credits and bylines under national brands. Find current opportunities and application information.