Journalism
Lewis Brings Experience, Credibility to Investigative Reporting
By Rosemary D'Amour
November 1, 2010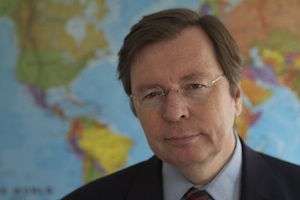 Professor Chuck Lewis is such an expert in investigative journalism that his colleagues at SOC's Investigative Reporting Workshop call him "Yoda."
Lewis decided to quit his job as a producer for 60 Minutes in the late 1980's for the slightly riskier venture as founder of the non-profit Center for Public Integrity, which he ran from home. CPI now is considered one of the nation's leaders in non-partisan, non-advocacy investigative reporting.
Lewis left the center several years ago to pursue other interests, including teaching and founding the Investigative Reporting Workshop at American University's School of Communication. But CPI hasn't forgotten Lewis, and honored him in October with the Founder's Award at its 20th anniversary celebration held at the Newseum. This Week host Christiane Amanpour emceed the media star-studded event, and attendees included Andrea Mitchell, Carl Bernstein and Roger Mudd. Sending congratulations via video was Arianna Huffington, whose Huffington Post Investigative Fund is joining CPI to create one of the country's largest investigative newsrooms. Lewis says that over the last 20 years he has seen -- and in large part developed -- a new ecosystem of non-profit news organizations. He serves on the advisory boards of 11 such organizations.
The Investigative Reporting Workshop is the founding member of the Investigative News Network, a syndicate of non-profit news from 20 organizations, and has partnered with msnbc.com and The Associated Press.
"If this is going to be the future of journalism, then let's raise the bar," Lewis says of the content he and his Workshop team are producing. "Let's play a leadership role, experimenting with everything that's possible."
Lewis said at an Oxford University symposium in September that the non-profit investigative reporting model is essential to a journalism industry that has been left flailing as the result of cutbacks and falling revenue.
"This is a dynamic space right now," he said. "We're devising new models, trying to redefine it, trying to figure out how we preserve this space and grow it."
These developing organizations, he said, face the same kind of challenges as traditional news media — finding new economic models to support the industry and adapting to new media formats.
"Everything with the online medium has radically changed the possible," he said. "And today you don't do a product unless it can be multi-platform."
As the genre develops, Lewis says that experimenting with approaches to non-profit investigative news is inevitable.
"It isn't a question of is it an exciting time, but a question of to what extent will this continue and for how long," Lewis said, adding that the driving force behind his work exposing corruption and abuses of power are the bedrock of investigative reporting.
"We're the canary in the mineshaft of this democracy," he said.