Communications
Climate Problems Meet Green Solutions in Documentary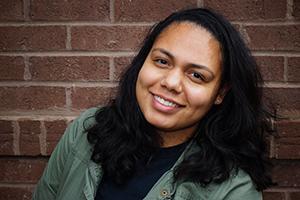 The effects of climate change are being felt close to home. Coastal communities on Maryland's Eastern Shore are dealing with the consequences of rising tides, like soil erosion and flooding, which are threatening a treasured way of life. Organizations like the Nature Conservancy, George Mason University, and Maryland Department of Natural Resources, who are studying these effects, are getting a helping hand from MFA student and documentarian Ashley Luke.
Luke's short documentary, "Maryland's Green Suit of Armor," was created last summer under the partnership between the Nature Conservancy and the Center for Environmental Filmmaking at SOC. Luke's film, showcases scientists who are studying the impacts of marsh vegetation and wave energy on Maryland's lower shore. These shores, like those found on Deal Island in the Chesapeake Bay, are being threatened by shoreline erosion and rising sea levels. The film showcases a study conducted by the partnering organizations on the possible green infrastructure solutions to these issues. These green solutions include coastal forests, dunes, and marshes. The goal of the film was to showcase the science of the study as well as gain visibility for it.
Luke believes that the medium of film can draw the public's attention to lesser known environmental issues because of how persuasive it can be. Besides her work with coastal communities in Maryland, Luke has also travelled with Florida to create a documentary about algal blooms, as part of CEF Director and Professor Maggie Stogner's class. Luke and other AU students visited both Florida coasts to interview residents as part of the effort.
"This is where I thrive. Not only the research… but how I can visually make a story impactful and compelling for an audience that maybe didn't know about these concerns," Luke says, of environmental filmmaking. In the future, she is particularly interested in creating films about water issues, and the interplay between the environment and human communities.