Communications
CNN Political Commentators Meet at AU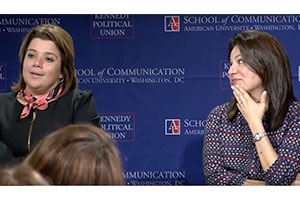 Republican presidential strategist Ana Navarro and Democratic presidential strategist Patti Solis Doyle offered their strong views on Donald Trump, Hillary Clinton and the tumultuous 2016 presidential campaign in a discussion with American University students on the eve of the election. 
Navarro—a Nicaraguan-born Republican and CNN commentator—was outspoken in her criticism of Trump's campaign and his views on immigration and women; and she discussed the impact of Trump on the Republican party and the country.  Solis Doyle—the first Hispanic woman to run a presidential campaign and a current CNN commentator—talked about Hillary Clinton's outreach to Hispanics, Donald Trump and Latino voters, and the challenges Clinton faces with young voters. The two were interviewed by Professor Jane Hall, and they analyzed TV commercials with Professor Andrew Babb and their students and classes in politics and the media and political advertising in the School of Communication at American University. 
The event was co-sponsored by the School of Communication and the non-partisan Kennedy Political Union, along with the AU College Republicans, AU College Democrats, the League of Latin American Citizens at AU, Latino and American Student Organization and Network of Enlightened Women.
Watch highlights from the event: