Communications
Creating Gender Inclusive Schools with Documentary Filmmaker Jonathan Skurnik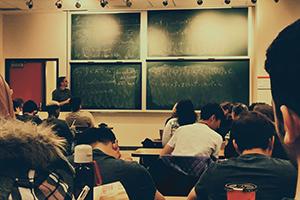 Students and professors joined award-winning filmmaker, Jonathan Skurnik, as he screened his film, Creating Gender Inclusive Schools, and hosted a complimentary workshop on October 16. 
The film focuses on how educators in elementary schools can promote a better understanding of non-binary genders. 
As a child, Skurnik faced bullying in school because of his gender expansive interests. Knowing how this kind of bullying can be devastating to some children is what led Skurnik to create the Youth and Gender Media Project. The project uses films to bring awareness to gender inclusivity in the education system. 
"I wanted to build a body of work that would help schools and communities be more accepting to genders than what my school had done," Skurnik said.
Creating Gender Inclusive Schools focuses on how an elementary school in Oakland, Calif. began implementing discussions on how to be inclusive of different genders. The film depicts students in kindergarten through fifth grade as they engage in age-appropriate activities and discuss gender and identity.
Before the film, Skurnik asked audience members to partner up and practice active listening. Each person took turns answering questions about their first gender defining moment, and how it impacted their life.
After the screening, Skurnik opened the floor to hear opinions and questions from the audience. Many were impressed at how young students were more aware and accepting of various gender identities than they perceived. Others asked questions about whether the film was currently being shown in other states (yes, in districts from Alabama to Massachusetts), and if there were negative reactions from parents (there are always a few, but the majority are comfortable with the subject matter being taught). 
The filmmaker also explained how those who want to pursue education professionally can take steps to become a classroom ally. He suggested that assessing your school's policies, integrating gender inclusive policies and creating supportive curricula, and continuing to develop your ally muscle are all important. 
Audience members also shared some of their current challenges around gender inclusion within their school or institution. Skurnik and the audience brainstormed possible solutions on how to deal with the issues at hand. 
What's next for Skurnik? He said he would like to do work on how society shapes masculinity in negative ways and the effects of that on boys from a young age. Skurnik also plans to return to campus in the coming months to hold additional workshops focusing on creating gender inclusive classrooms. Contact SOCinclusion@american.edu for more information.
This event was hosted by the School of Communication in collaboration with the Office of Campus Life, and the departments of Sociology and Psychology.