Communications
Learning the Ins and Outs of Digital Distribution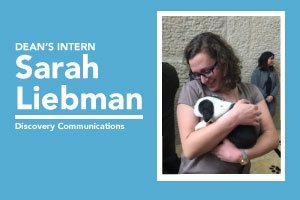 Below is a first person account from Dean's Intern Sarah Liebman on her internship at Discovery Communications. This was originally published in March on the Dean's Internship Blog. 
Working in the Digital Distributions & Partnerships department has been an incredibly exciting experience. I have always been interested in understanding how media companies succeed in getting eyes on their content, both through linear and digital modes of distribution. Working in this department has shed so much light on the topic. My biggest take-away has been: digital distribution is a vital element to the success of content creators and it is crucial to stay ahead of the trends. While there is still so much value in linear television, the trends indicate that the digital distribution market is the direction many demographics are heading.
Working in the Digital Distributions department has also motivated me to not only keep up with the trends in cord-cutters, cord-shavers, and cord-nevers, but also develop my own opinions, observations, and strategies for a media company in this environment. This experience has greatly increased my breadth of knowledge I have in this field allowing me to think critically as a member of the media industry. One of the elements I love the most about coming into the office is the trust the team places in me. I do not feel like "just an intern," instead I am asked to observe and participate in meetings and brainstorms. I am highly encouraged to find my own projects and run with them. And most of all, I am able to ask as many questions as I need and absorb as much information about the industry as possible.
Below is a list of the top highlights of my internship so far:
Curating a playlist of Polar Bear videos for a youtube social media campaign for National Polar Bear Day
Creating a presentation with my supervisor regarding Universal Search and Consumer metadata 
Attending brainstorms with my department 
The opportunity to meet and learn from a variety of different people in the building through the intern lunches and workshops 
Brainstorming creative episodic and season based sales for various platforms 
Last but not least: Puppy Bowl Day! Discovery brings in the adoptable puppies from local shelters
The Dean's Internship program pairs SOC's top students with selected partner organizations for semester-long, for-credit internships. The competitive program provides extraordinary opportunities for undergraduates and graduates to have their work featured with named credits and bylines under national brands.