Environment
Pursuing Sustainability Through Service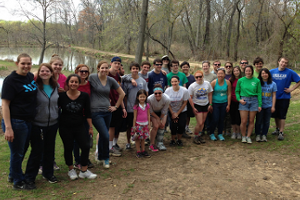 Throughout April, the American University community is celebrating Earth Month 2013, which has been given the theme An Active Pursuit of Sustainability to reflect the campus-wide commitment to a better future. This pursuit doesn't end at the boundaries of campus, and to demonstrate this more than 30 volunteers traveled across the District for AU's first Day of Sustainability Service. Partnering with the nonprofit Anacostia Riverkeeper and the National Park Service, the day's mission was to clear nearly two year's worth of invasive species and litter from the Kenilworth Aquatic Gardens, one of the last functioning wetlands in the Anacostia River watershed.
PHOTO ALBUM: View pictures from the event.
Bamboo, vines, honeysuckle, English ivy, and plastic bottles encased in muck were no match for Eagles from groups as diverse as environmental club Eco-Sense, Student Government, Alpha Phi Omega Community Service Fraternity, Green Eagle peer educators, the Sustainable Earth section of the University College, Pi Kappa Alpha Fraternity, Office of Sustainability staff, and AU alumni. A group of students from Gallaudet University participated as well. "I had a great time with old friends and made new ones while spending time in one of DC's ecological gems," remarked AU Student Government Director of Environmental Policy Stephen Bronskill. "Completing service with friends is so very rewarding", added Community Service Coalition Director Benjamin Derby, "We grow closer to our friends by doing something together that we know is providing good to the world. Nature is our collective home away from our individual houses or residence halls, and it is important we do our part to care for our collective home."
Students also gain other benefits from volunteering their time for environmental causes. According to Trey Sherard, Anacostia Riverkeeper Outreach Coordinator, "volunteering as a student can give you new perspectives, service hours, access to new organizations that can lead to internships and even jobs down the line, and sometimes even free lunch." The benefits of community service, however, were not only for the volunteers. Sherard continued,"For the Anacostia River, picking up litter and removing invasive species are seemingly endless tasks, but in addition to their immediate benefits to local ecology, these actions can also be leveraged to achieve long-term solutions towards better policy-making and achieving behavior change to prevent future littering." Jake Assael, SOC/BA '16, agreed, "We are at a turning point on this planet where we can either go down our current path or start caring about what's around us and change the way our society views the environment. Events like this one are definitely in my future plans."
Without a doubt, the passion and commitment of the AU community are what make the institution a national sustainability leader, and are reflected in students' desires to enhance their academic career with hands-on experiences. "I learned a great amount about the impacts of invasive species on the Anacostia watershed", reported Student Government President Emily Yu, "I had no idea how severe the conditions were but after a long day of plant removal, it was rewarding and impactful to see the difference we made."
AU students, faculty, staff, and alumni continue to make a sustainable difference each and every day on campus, in the District, and around the globe. Keep up with AU sustainability happenings and learn about future opportunities to engage with our active pursuit of sustainability by following the Office of Sustainability on Facebook and Twitter, joining the AU Sustainability E-mail List, and visiting the AU Sustainability homepage. Find the full schedule of Earth Month 2013 events at http://www.american.edu/earthmonth.