Government & Politics
Primary Reporters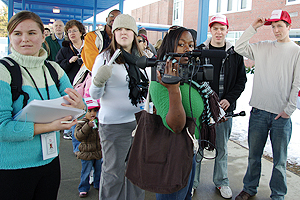 As an eclectic throng of supporters, reporters, curious gawkers, and celebrity stalkers converged on Arizona senator John McCain, Ted Roach found himself getting squeezed out of the mob.
The SOC graduate student was at this McCain rally in front of the New Hampshire statehouse in Concord the day before the Granite State's January 8 first-in-the-nation primary in hopes of asking the candidate a question for a short documentary he was helping produce. Just as he felt his opportunity slipping away, Roach spotted former ABC News correspondent Jim Wooten, one of several journalistic heavyweights assisting his class, Special Topics in News Media: Covering the 2008 Presidential Election.
Battling his way through the sea of humanity, Roach reached Wooten, who caught McCain's eye as the 71-year-old worked the crowd.
"Hey, how you doing old man? Good to see you," McCain greeted Wooten, who seemingly knew everyone at the event.
This was Roach's chance. He had carefully rehearsed the question he would ask McCain, the same one his team of five hoped to ask all the Republican presidential candidates: How important have young political operatives been to your campaign?
With McCain's attention focused squarely on him, Roach delivered his question, with just one hiccup. But it was a major one; he forgot to utter the word "young."
Momentarily dumbfounded by the simplistic question, McCain raised one of his white eyebrows, grinned at Wooten and Roach, and replied playfully, "Very important."
"I can't believe I did that," Roach later groaned. "That's going to keep me up all night."
Students film Jim Goodenow, of Veterans for Peace, aboard his peace bus.
Not that sleep was much of an option for any of the 28 students who spent four days in the temporary center of the political universe working virtually around the clock to produce stories, videos, photos, and blog entries as part of the class. It was quite a feet-in-the-fire indoctrination for the mixture of graduate and undergraduate students, some of whom are aspiring journalists, some of whom are not.
"They're exhilarated, but they're exhausted," said Lynne Perri, one of three professors leading the class. "It really mimics the newsroom: the process, the resources, the deadlines. It's not a competitive environment, but they are facing the pressure."
Roach certainly felt it. Back at the class's headquarters in the Granite conference room on the second story of the Best Western on the outskirts of Manchester, also home base for the New York Times, Roach vowed not to repeat his mistake. There certainly was no time to sulk; a few minutes later Roach and his teammates were off to a rally for Mitt Romney, hoping to get some solid footage for their film tentatively titled "The Operatives." Bleary eyed but brimming with enthusiasm, they loaded their equipment into one of five rented minivans the faculty used to ferry the students around the state, and set off back into town.
It's unlikely that most of the students knew what they were getting into when they met for the first time in the Mary Graydon Center in early December. Between them, Professors Perri, Dotty Lynch, a consultant for CBS News, and Bill Gentile, a photojournalist and documentary filmmaker, have covered scores of major news events. Add Wooten, Richard Benedetto, former White House correspondent for USA Today, and Jules Witcover, who's covered every presidential convention and campaign since 1960, to the mix, and the AU newsroom north certainly boasted more experience and expertise than many of the working media outlets in town.
Still, their words alone never could have prepared the students for the politically supercharged atmosphere they encountered in Manchester. Signs touting every candidate from H. Neal "Cap" Fendig Jr. (He was one of 42 candidates whose name appeared on the New Hampshire ballot) to simply "Hillary," sprouted up from virtually every snowbank lining nearly every road. Bands of supporters walked the streets of Manchester 24 hours a day, holding signs and chanting their candidate's name. It seemed to be their only job.
The scene was a sort of bizarro world in which politics was omnipresent. At Murphy's Taproom on Elm Street Monday night, a group of AU students relished a few hours of down time by munching on salads, sirloin tips, and burgers while MSNBC and CNN played on the big screens. In this alternative universe, the LSU–Ohio State college football title game was relegated to one small TV in the corner above the bar.
"I didn't think it was going to be this intense, and I'm really enjoying it," said Audrey Busta-Peck, a CAS graduate student. "I can see myself doing something like this again. Even though we haven't gotten any sleep."
The students' primary objective in New Hampshire was to conduct interviews and shoot video for three- to five-minute documentaries that each of the six teams went on to produce over the course of the semester. The topics ranged from the Obama phenomenon to exploring veterans and the vote. Complicating matters was the fact that students with limited or no technical expertise were now being asked to hoist a camera on their shoulder and shoot away, and those with little writing experience were expected to bang out copy.
"We designed it as a multimedia immersion," Perri said. "They're all shooting video, taking stills, taking digital audio, and writing. We think the backpack journalist, the reporter who can do it all, is the future. They're dealing with problems like poor lighting on interviews, or good lighting on interviews with poor content. Even if some of them are just on a writing track or a photography track, they will understand and appreciate the other roles in the newsroom or wherever they're working."
Jodi Westrick, 24, is an SOC graduate student who worked on the Obama film. She landed what she thought at the moment was great footage of an Obama supporter eloquently articulating why he favors the Illinois senator. But when she got back to the hotel and checked out the footage, she was sorely disappointed.
"It's not awful, but it was in and out of focus," she said. "It's frustrating because I'm a print journalist so I'm not familiar with the medium. As a print journalist, when you get good content you're done, and you don't have to worry about anything like lighting."
For the most part, the students embraced the fact that mistakes were going to be made, and they appeared eager to learn from them.
"I'm a political science and communication major; I've never done anything like this before," said senior Peter Suprenant, 22. "I'm probably never going to be a journalist; I'd like to be on the other side, working on the campaigns. If I'm ever in an interview or a situation where I have to be in front of the camera, now I know what goes into it. It's kind of on-the-job training."
Roach awoke early Tuesday morning with a bounce to his step. The night before he cooly and calmly approached Romney and asked him the question, this time including the vital word "young."
Though a newcomer to the world of journalism, Roach is no rookie. At 34 he's the oldest student in the class, and brings with him a wealth of technical experience he gained while working as a production assistant in Hollywood. As he set up for interviews with Steve DeMaura, the 22-year-old AU alum who is executive director of the New Hampshire Republican State Committee and the central character in his team's documentary, Roach's desire for perfection was evident. He painstakingly situated each shot, always taking into account the all-important matter of lighting.
"You can have a great story, but if it's not shot right, forget it," Roach said. "The biggest thing is, you want people who watch it not to notice any technical issues."
His objective on election day was clear: to get the remaining GOP candidates, Rudy Giuliani, Ron Paul, and Mike Huckabee, on tape answering the question. After a morning event at Giuliani headquarters in which the former New York mayor addressed his young political operatives during a short speech, Roach headed to radio row at the Radisson downtown to try to land a one-on-one with Paul.
After killing a few hours at the hotel over a cup of coffee—not a rare occurrence in a climate where the candidates' schedules are packed so tightly they routinely run hours late for appearances—Roach confidently approached Paul and briefly interviewed him above the steady din of the chatteratti broadcasting in the second story conference room.
"I'm so excited that young people respond to me," Paul told Roach, who attached the microphone to Paul's jacket, asked the question, and shot the footage. "It's given me hope that the next generation will be in a good place to take over and maybe improve things."
With just one candidate left on his radar screen, Roach swung back to the hotel to pick up team members Busta-Peck, Suprenant, and Jinwei Wang. The four headed off to the Derryfield Country Club, site of Huckabee's election night party.
By the time they arrived, a volunteer greeted their car with apologies for the lack of parking spaces. It was a sign of the situation inside, where all the spaces on the riser set up for cameras were taken. But Roach and his team would not be denied. After the former Arkansas governor's rousing speech, the trio formed a makeshift gang, pushing and elbowing their way toward the candidate, who was engulfed by well-wishers.
"How important were young people to your success?" Suprenant repeatedly yelled while Roach tried to hold the camera steady. While the students sweated in the middle of a gaggle of press and fans, Huckabee seemed more interested in signing his autograph than responding to questions, but eventually, he bit.
"Look at how many people here tonight are youth, in fact all of these people here tonight look like they're under 25 to me," he said. "We have so many of our real, just key, core people who are young energetic . . . they don't sleep . . . I don't know how they do with as little sleep as they have. We wouldn't be celebrating tonight without them."
It's a home run. The final piece of the puzzle is also the best piece, and Roach lets out a celebratory scream. The students' excitement is palpable; they've been bitten by the bug.
"I'm so pumped," Roach said as he dished out high fives.
"There's definitely a rush, especially with a big fish," Suprenant said. "I was nervous at the first stuff we went to, before I knew how these things go. You have to be aggressive."
With their adrenaline pumping strong, the group ended the night as seasoned reporters have done for generations, over drinks and war stories at a local bar.
After four draining yet invigorating days on the country's biggest stage under the brightest of lights, they were cub reporters no more.
Faculty planning, connections key to N.H. success
Just two days before the New Hampshire primary, it was evident that the months of advance work were paying off. John McCain, surging in the polls, miraculously was early for his Sunday morning appearance on Face the Nation, so he stopped to chat with some American University School of Communication students who were on the set.
"They got to spend an hour with him drinking coffee and schmoozing before the show," said SOC executive in residence Dotty Lynch, one of three professors who took 28 students to the Granite State.
You don't just plop an entire class on a plane and head off to Manchester, New Hampshire, during the peak of the presidential primary sesason without some serious planning. Lynch and her colleagues, journalist in residence Lynne Perri and Professor Bill Gentile, spent months mapping out the syllabus and ironing out logistics before they even met with their Special Topics in News Media: Covering the 2008 Presidential Election students for the first time in early December.
The result of their hard work was a frenetic but electrifying 96-hour trip to New Hampshire, during which the professors leaned on their contacts and connections to provide their students with once-in-a-lifetime opportunities.
That Lynch, former senior political editor of CBS News, was able to take a small group behind the scenes of a program as prestigious as Face the Nation hardly is surprising; she and host Bob Schieffer are old friends. Lynch and former ABC News correspondent Jim Wooten, one of three veteran reporters assisting the class, also scored backstage passes for some students at This Week with George Stephanapolous. When they weren't banging out copy or reviewing video footage in their makeshift newsroom in a second floor conference room at the Best Western, the students could attend virtually any political event anywhere in the state.
"I think beyond connections it was my understanding of the process that really helped the students gain access to events," said Lynch, a consultant to CBS News who did 10 to 15 radio interviews with affiliates each day, often from the AU newsroom. "We set up our workspace the way I have seen CBS do it for years. The New York Times was the other big guest in our hotel, and my favorite moment was when Times reporters, including chief political reporter Adam Nagourney, would amble in and say, 'Your newsroom is bigger than ours!'"
Perri, former deputy managing editor for graphics and photography at USA Today, was charged with many of the organizational tasks. She drew heavily on her experience in real world newsrooms to efficiently run AU's temporary student version.
"I helped plan a lot of big events and coverage at USA Today," she said. "The whole notion of doing a lot with a group was comfortable to me."
Before reaching the upper rungs of her profession, a young Perri landed a reporting job at a small newspaper in Florida, the Clearwater Sun. The man who hired her? Mike Pride, now editor of the Concord Monitor, which during presidential primary season at least is one of the most influential newspapers in the country. Perri called her old boss, who was thrilled to help out. The Monitor asked the AU students to help conduct some election day exit polling, and as a bonus, a handful of students got to sit in on a Tuesday luncheon in which Washington Post reporters David Broder and Dan Balz briefed the Monitor staff.
Meanwhile, other students were scouring the state, shooting footage on their professional-grade Sony PD-170 digital video cameras for their respective teams' documentaries, a task not made any easier by their lack of experience in the medium.
"One of the issues both good and bad was that the skill level was so incredibly uneven," said Gentile, whose career spans three decades, five continents, and nearly every facet of journalism. He's completed assignments for the Discovery Channel, National Geographic Television, and ABC's Nightline. "I had people who literally I would have to explain how you turn the camera on and how you put the tape in. When you're in the field in a place like New Hampshire, even professionals have difficulty identifying and cultivating and following a storyline. That was probably the key issue. Constructing these documentaries is kind of like playing three dimensional chess. You've got the visuals; you've got the sound; then you have to inject your own narration. On one hand it's an extremely rich experience because the creative possibilities are so endless, but on the other hand, it's hard at least initially for students to get their heads around. I think in general, the class did extraordinarily well."