Education
Judging at Annual Case Competition Allows Professionals the Chance to Give Back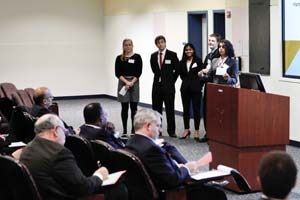 The student competitors aren't the only ones who give up a Saturday each winter to participate in Kogod's annual Case Competition. More than 60 business professionals volunteer to judge the students' performance.
"It's always so exciting to see the students work so hard and have such energy. They always knock my socks off," said long-time judge Gayle Abbott, SPA/BA '76 and President of Strategic Alignment Partners, Inc.
Paying it Forward
Every judge participates for his or her own reasons but almost every one will say giving back to the community plays at least some part in the decision.
"I've always valued education and the Case Competition is so important to educating students. It allows them access to real people in the real business world and that's so important," said judge Grant Lehman, Managing Consultant at The McCormick Group, an executive search and recruitment company. "I'm really glad I can give back in this way."
For Abbott, judging the competition allows her to "contribute to the greater good."
"I feel my participation adds value to the overall competition so I try very had to give valid and honest feedback to the students to help them grow. They're the future of the business world."
Student Growth
Participating in the competition helps student learn in real time, on their feet.
"The skills these teams use aren't just academic; they're getting real life experience facing real life challenges," Lehman said.
He continued, "I think everyone in business has found himself in a situation similar to the case at least once in his career, it's a level of organization and preparation that's hard to teach except first-hand."
Life Skills
As long-time business professionals, the judges see case competitors learning skills they use themselves on a daily basis—and look for those when ranking teams.
"I look for that well-oiled machine making a presentation," Lehman said. "Everyone has to be contributing something and all the bases have to be covered. The best teams are well-prepared for questions, despite the short time window and that's real business."
Regardless of academic level, every participant has a chance, and most take advantage, according to Abbott.
"The competition is designed to build personal accountability under pressure, which is absolutely essential to excel in business, and I'm always impressed by the students', from sophomores to second-year graduate candidates, ability to do this."
No End in Sight
Through the years, repeat judges have seen student performance advance and participation grow. As more events, such as the Meet the Experts Panel and Judges Forum, have been added to the competition schedule, judges have become more involved and more attached to the event.
"The competition is very important to me," said Abbott. "It's a very important program that adds so much to the student."